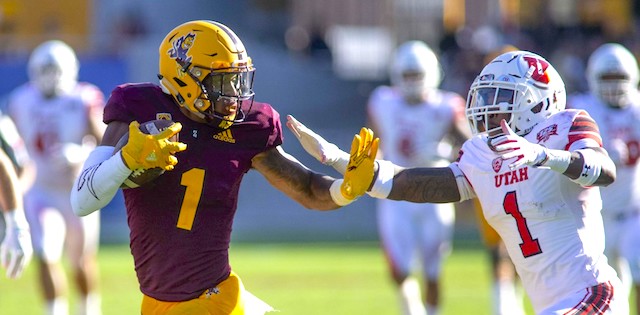 With the 2019 NFL Draft now behind us, fantasy owners are now looking forward to the upcoming season. The first step in this process tends to be rookie drafts for those in dynasty formats. Now is the time to become acquainted with the new blood in the league, the teams in which they were drafted, and the impact they will have in fantasy football moving forward. The sooner you put the work in gives you a leg up on your league-mates.
Leading into the draft, most of the players that were being highly touted (Josh Jacobs, N'Keal Harry, D.K. Metcalf) found themselves in very fantasy friendly destinations. They will be names that you should get used to seeing high in rookie drafts. But based on the flow of the NFL Draft, plenty of player values fell down the board as we saw names get drafted a little later than we expected. Putting several players in situations where they will be fighting for playing time early on, which will also affect just how early they can make an impact on your dynasty teams.
In an effort to help you all out there in the fantasy world, I and others over at RotoBaller put together our consensus rankings in order to prepare you for rookie drafts. Coupled with my take on these rankings, the hope is that we give you everything you need to outshine the rest of your league and build a team to beat!
Editor's Note: Our incredible team of writers received five total writing awards and 13 award nominations by the Fantasy Sports Writers Association, tops in the industry! Congrats to all the award winners and nominees including Best NFL Series, MLB Series, NBA Writer, PGA Writer and Player Notes writer of the year. Be sure to follow their analysis, rankings and advice all year long, and win big with RotoBaller!
Read More!
Dynasty Rookie Rankings (Post NFL Draft)
Mainstays of the First Round
Taking a look at the rankings, you may see some familiar names that we have been talking about in the months leading up to the draft. Currently, we have Harry holding down the top spot followed by Jacobs. Both found themselves in very friendly fantasy landing spots, but in my eyes I see Jacobs providing more value to owners. The workload will be there for him to take advantage of as the centerpiece of a revamped Raiders run game. He should be viewed as a low-end RB2 in redraft formats, but certainly a valuable player in dynasty setups.
As for Harry, I am a big fan, but he now finds himself in a crowded receiver room with the Patriots. The targets will be inconsistent early on making him a tough player to project over the first couple of years. But once Tom Brady hangs up his cleats, the fact that the team has no succession plan in place could also hinder his value. But the talent will find a way, making him one of the top picks among these rookies.
Rounding out players among the Top 12, we see some players that have been moving up and down the rankings all offseason. Miles Sanders and Parris Campbell each made steady inclines in perception among those in the industry and now could be in positions to make some noise early in their careers. Sanders, with the Eagles, could work his way into the starting RB role and be a mid-round steal in redraft formats. Campbell was selected to the Colts and will fight for targets with Devin Funchess and Eric Ebron behind T.Y. Hilton. He has the talent to become the starter opposite of Hilton, putting him in the discussion as a WR3 in redraft leagues in 2019. Based on the landing spot, there could be the debate that he should be the second receiver off the board in rookie drafts.
Players like A.J. Brown, David Montgomery, and J.J. Arcega-Whiteside all have very high ceilings but must work towards a larger share of the offensive pie.
Players on the Rise
Mecole Hardman (WR, KC) - His landing spot with the Chiefs is making Hardman a highly talked about player in fantasy. With the news regarding Tyreek Hill still very murky, he could find a very high usage rate early. His skill set is somewhat similar to Hill, making the passing attack very seamless is he were to miss time. His current rank in the second round could easily increase to low-end first round value if we were given more concrete news on Hill's situation.
Deebo Samuel (WR, SF) - The ADP on Samuel in either redraft or rookie drafts is only continuing to get higher. The excitement with the 49ers offense is continuing to build and with Samuel likely playing a key role as a slot receiver only adds fuel to the flame. I like the skill-set that he brings to the league and he will be a great player to own in dynasty formats. His ceiling seems to be a high-end WR3, but I believe he actually adds more to Dante Pettis as a fantasy asset more than anything.
Devin Singletary (RB, BUF) - Although I am not the biggest fan of Singletary, you can't argue with the landing spot and his fantasy potential. Being behind LeSean McCoy (if he's still around) and Chris Ivory on the depth chart should mean that he will be given a prominent role sooner rather than later. Odds are he will never be a three-down back at this level, he could prove to be valuable in PPR formats much like a Tarik Cohen/Darren Sproles type.
Diontae Johnson (WR, PIT) - Johnson is a player that I continue to become high on. Selected by the Steelers, the resemblance in style of play to Antonio Brown is uncanny. He doesn't have the exceptional talent of Brown, but with the team's propensity of developing a secondary receiver, Johnson is very intriguing. If James Washington has trouble finding consistency in his role, Johnson could step in and become another receiver that Roethlisberger makes famous. I like him as a second-round pick in rookie drafts with WR3 potential.
Bruce Anderson (RB, TB) -Anderson is an undrafted free agent picked up by the Buccaneers. Even though the team has been talking up Ronald Jones of late, Anderson could become the David Johnson type of running back in the Arians offense. Keep an eye on him throughout the summer and track his playing time, but if he begins to nudge his way into the rotation, his ADP will rise. He's the type of back that you can afford to take chances on in rookie drafts. If you have great depth at the position, put him at the end of your bench and see how things pan out. There is a back that comes out of nowhere each year to produce and Anderson could be that guy in 2019.
Players Falling
Marquise Brown (WR, BAL) -Hollywood is a receiver that many are expecting big things out of at the next level, but his landing spot places restrictions on him. The Ravens offense will not set the world on fire in terms of creativity. They will be strictly run-based, limiting the targets he will see. Also, Lamar Jackson is not the most accurate QB in the league, hurting his value even more. He will be drafted in the first round in rookie drafts moving forward, but the limitations are hard to ignore. He will never be a sure-fire thing in fantasy and a headache that I would let other owners deal with.
Damien Harris (RB, NE) -The trend that you will see with the remaining falling players is also based on the landing spot. Harris going to the Patriots is the death knell to his early fantasy value. Competing in this backfield is always a struggle and one that I don't see rising from. He is the same type of back as the starter in Sony Michel and will see no targets in the passing game with the presence of James White. Harris is doomed to become an end of the bench fantasy player if not waiver fodder.
Rodney Anderson (RB, CIN) -Anderson is a player I was high on during the draft process but now finds himself behind Joe Mixon with the Bengals. Still not fully healthy, Anderson will need most of the 2019 season to get back to full speed in recovery from the injury. His skill set proves that he can become a starting RB in fantasy in the right environment, but being blocked on the depth chart is hindering to his value. Unless something happens to Mixon, Anderson is no more than a handcuff over the next few seasons.
Bryce Love (RB, WAS) - Love is a productive player from college that tested well during the offseason, which is why we saw an increase in his draft stock. But now that he is a Redskin, he finds himself behind Derrius Guice and Adrian Peterson on the depth chart. He will essentially have a "redshirt" rookie season in the NFL, but his playing time moving forward is directly tied to Guice. If Guice becomes a Todd Gurley-esque fantasy player, Love will be nothing more than a waiver wire player. Nothing to get excited about.
More Fantasy Football Rookie Analysis
Check out all of RotoBaller's fantasy football rankings. Staff rankings are updated regularly for all positions and include standard formats, PPR scoring, tiered rankings and dynasty leagues.