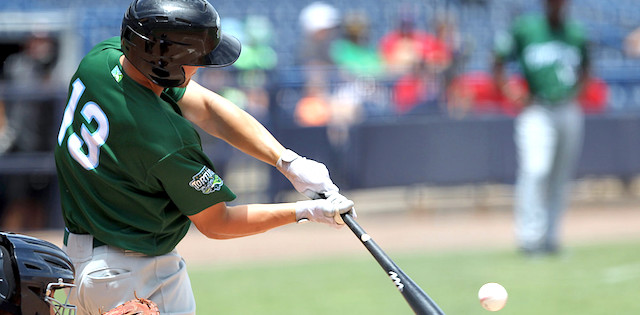 Hello everyone, and welcome to my weekly Top-30 Fantasy Rankings for Impact Rookies! In this series, I will be going over the top prospects in baseball and discussing which ones figure to have an impact for the rest of this fantasy baseball season.
The Juan Soto hype train has seemed to gone off the rails — and justifiably so. The 19-year-old phenom has just continued to crush big-league pitching and is establishing himself as one of the best young outfielders in the game. For Washington Nationals' fans concerned over the prospect of losing Bryce Harper, it should serve as some consolation that both Soto and Victor Robles will patrol the team's outfield for years to come.
Soto and Robles are not alone in this wave of young talent. There seems to be this constant group of exciting young players like Ronald Acuna, Ozzie Albies, Vladimir Guerrero Jr., Nick Senzel, Eloy Jimenez and many others coming up that seem to be one of the best group of prospects the game has seen in a while. These next two years are going to be very fun to see what these talented youngsters are able to do.
Editor's Note: Get any full-season MLB Premium Pass for 50% off. Exclusive access to our Draft Kit, premium rankings, projections, player outlooks, top sleepers, dynasty and prospect rankings, 15 in-season lineup tools, and over 200 days of expert DFS research.
Sign Up Now!
Top MLB Prospects - Fantasy Baseball Power Rankings
To be clear, this list is not the top 30 prospects in baseball. This is a list of the top 30 prospects who are likely going to rise to the major leagues and provide fantasy baseball value this season. The qualifications are simple: a player must not be on an active roster, they must have a clear path to the majors, and while they may have played in seasons prior to 2018, they must still have rookie eligibility. If a player is moved to the active roster of their team, they will be removed from this power rankings list and replaced.
1. Kyle Tucker (OF, HOU, AAA)
Stats: 301 PA, .294/.365/.485, 9 HR, 11 SB, 10.3% BB%, 19.3% K%
ETA: Early July
Tucker has done everything in his power to show he's ready for a promotion. He is walking at a high rate, has cut his strikeouts to below 20 percent, is hitting for a high average with power and stealing some bases. He's clearly MLB ready and is almost certainly the best left field option Houston could ask for internally, even with Tony Kemp having a strong season. It should not be long until Tucker is promoted and while he might compete with others for playing time, expect him to establish himself as a starter early.
2. Nick Senzel (2B/3B/SS, CIN, AAA)
Stats: 180 PA, .302/.372/.478, 4 HR, 8 SB, 10.0% BB%, 21.1% K%
ETA: Early August
It's almost as if the comments from the Cincinnati Reds' front office that Senzel is ready, but they can't find a place for him really resonated with Senzel. Since June 9, he is slashing .447/.462/.658 at the plate with seven consecutive multi-hit games until that streak was snapped on June 17 when he recorded just one hit. There's little doubt Senzel belongs in the majors, but with the Reds' current infield, there's just no where for him to play. It seems like Scooter Gennett could be moved at the deadline and if he is, Senzel should be the immediate replacement. Have Senzel stashed for when that time comes because he could be a serious boon for fantasy owners.
3. Austin Riley (3B, ATL, AAA)
Stats: 222 PA, .308/.369/.552, 10 HR, 1 SB, 8.1% BB%, 29.7% K%
ETA: Early July
Like with Senzel, the general consensus around Riley is that he is ready to help his team. Senzel is the more complete prospect, but Riley has the easier path to playing time. His team both has a need for him at third base and is competitive right now, both making it seem more plausible that he will be called up before Senzel. Riley swings and misses a fair amount, which is an issue that could plague him when he reaches the big leagues. However, his power should allow him to provide owners with plenty of home runs and he should have no problem driving home runs in a loaded Atlanta lineup. Riley would be a strong addition for teams seeking power or third base help.
4. Christin Stewart (OF, DET, AAA)
Stats: 273 PA, .275/.348/.513, 13 HR, 0 SB, 9.9% BB%, 20.5% K%
ETA: Early July
Stewart has cooled off a little bit in June, slashing just .255/.271/.345 without any homers so far this month. He does, however, have a hit in all but three games. Also helping Stewart's case is that he has been having a career year at the minors' highest level, striking out at a lower rate with still plenty of pop. It doesn't hurt that the Detroit Tigers don't really have a great option in left field and are entering a rebuild where someone like Stewart could play a key role. Stewart seems poised for a mid-summer call-up and even if the strikeouts return and keep him from hitting for a high average, the power should still be there enough to help owners out.
5. Alex Verdugo (OF, LAD, AAA)
Stats: 194 PA, .350/.392/.522, 6 HR, 3 SB, 6.7% BB%, 10.8% K%
ETA: Late July
Verdugo has very little left to prove in the minors, if anything. He's currently riding a 13-game hitting streak with home runs in each of his past two games and a .404/.451/.558 slash line in the 25 games since he was sent down on May 12. Verdugo could help the Los Angeles Dodgers right now if they decided to promote him, but he could also be their most valuable trade chip. One way or another, Verdugo has been one of the most productive hitters in the minors this season and should find his way to the big leagues at some point this season for a more extended period of time.
6. Tyler O'Neill (OF, STL, AAA)
Stats: 169 PA, .309/.361/.651, 15 HR, 3 SB, 7.1% BB%, 23.1% K%
ETA: Mid-July
For all the prodigious power O'Neill seemed to hit for, he somewhat bucked the typical profile of young sluggers in that he never really took a walk in the minors. That had been a knock on him and was one reason he has struggled in the majors. However, in the 11 games since returning to Memphis, he has walked at an 18.4 percent clip, nearly nine times the 2.5 percent clip he had walked at before he was promoted to the big leagues in mid-May. If O'Neill can put together the plate discipline, it would be a huge plus for his value, which is already considerably high because of the power. He doesn't have a clear path to playing time at the moment, but he could be a trade chip at the deadline and is the next man up if any outfielder is injured.
7. Peter Alonso (1B, NYM, AAA)
Stats: 287 PA, .310/.436/.556, 15 HR, 0 SB, 15.7% BB%, 18.8% K%
ETA: Late July
Dominic Smith was promoted in the wake of Adrian Gonzalez's release from the New York Mets, and just as he did last season in his MLB stint, Smith has struggled. He is striking out 35 percent of the time with a mere .211/.250/.421 slash line across his first eight games. He hadn't been showing much more promise in hitter-friendly Las Vegas either, leaving this to be more of a trend rather than an adjustment period. Alonso, on the other hand, demolished Double-A before being promoted to Triple-A to serve as Smith's replacement on the roster. While Alonso is not off to a fast start through his first three games, there is much more reason to believe he will get it going than Smith based on Alonso's track record of hitting in pro baseball. If Smith should falter for too long, the rebuilding Mets might opt to take a look at a guy increasingly believed to be the franchise first baseman in Alonso. If he is given the call up, his power and overall reliable bat would be extremely welcomed by plenty of fantasy owners.
8. Willie Calhoun (OF, TEX, AAA)
Stats: 289 PA, .277/.322/.413, 6 HR, 0 SB, 5.5% BB%, 11.4% K%
ETA: Mid-July
Calhoun has continued to swing a hot bat, carrying a .367/.392/.612 slash line with just two strikeouts over his past 11 games. He was off to a slow start to being the year — really through the first two months of the season — but the slugging left fielder has seemed to find his footing at Triple-A. The path is fairly clear for him to force his way into left field in Texas, and now that he is hitting, he should be able to join the lineup before the end of the summer. He will need to keep this hot-hitting up, but Calhoun has the bat that could be a real force in the outfield for fantasy owners in 12-plus-team leagues.
9. Michael Kopech (SP, CWS, AAA)
Stats: 62.1 IP, 5.20 ERA, 3.98 FIP, 29.3% K%, 15.0% BB%, 7.1% HR/FB
ETA: Early August
Kopech had another disastrous outing that spiked his ERA and FIP even more. He went just three innings and walked eight batters with only two strikeouts, allowing a total of five runs on two hits. Owners only have to look at his strikeout and opponent's batting average of .210 to see Kopech is one of the most overpowering starters in the minors, but his inability to get out of his own way has really hurt him this season. The walks seemed to be getting better, but outings like that last one don't help his case for a call up. He is extremely talented and could force a promotion later this year, but he will need to string together a couple starts where he doesn't walk nearly the entire starting lineup.
10. Jalen Beeks (SP, BOS, AAA)
Stats: 63.1 IP, 2.42 ERA, 2.77 FIP, 34.7% K%, 5.6% BB%, 13.0% HR/FB
ETA: Early July
It's challenging to find flaws on the Boston Red Sox right now, but if there was one, it might be their lack of a true fifth starting pitcher. Drew Pomeranz has been awful before he was injured and no one else has been able to adequately fill in. Beeks, though he struggled in his MLB debut, has been nearly spotless in Triple-A this season, posting a sterling 6.21 K/BB ratio and sub-3.00 ERA and FIP. Beeks is not an overpowering pitcher and has never been viewed as a top prospect, but the results don't lie and he could be starting to figure things out. If Beeks is given another chance to pitch out of the rotation, he has the chance to establish himself as the No. 5 starter and provide solid strikeout numbers to owners in 12-plus-team leagues.
11. Nick Kingham (SP, PIT, AAA)
Stats: 42.2 IP, 2.32 ERA, 2.28 FIP, 23.8% K%, 6.6% BB%, 0.0% HR/FB
ETA: Early July
Kingham has pitched like he belongs in a big-league starting rotation, but there just isn't the space for him in Pittsburgh right now. Kingham is clearly the next man up in the event of an injury, but that doesn't do him much good so long as there are still five arms ahead of him. He has shown he can miss bats and won't hurt himself too much in the big leagues with solid peripherals (3.35 FIP) to back up the respectable ERA (3.82). He should find his way back to the big leagues at some point this season, and when he does, he will be worth owning in some mixed leagues.
12. Kolby Allard (SP, ATL, AAA)
Stats: 75.0 IP, 2.28 ERA, 3.36 FIP, 17.2% K%, 6.7% BB%, 3.8% HR/FB
ETA: Late July
Allard is not going to dazzle anyone with his strikeouts — which have been underwhelming this season. But he has proven he knows how to get batters out with a solid mix of pitches and plus control of his repertoire. The Braves don't have a dire need for pitching even with Luiz Gohara's struggles, but injuries are part of the game and Allard stands to benefit more than any other Braves' prospect still in the minors from one. If promoted, his lack of strikeouts makes him less valuable in shallower leagues, but he could be worth owning in some 12-plus team leagues.
13. Matt Thaiss (1B, LAA, AAA)
Stats: 279 PA, .296/.355/.522, 11 HR, 3 SB, 7.9% BB%, 16.8% K%
ETA: Late July
With the injury to Shohei Ohtani, the Los Angeles Angels' best left-handed bat in their lineup, there is an added emphasis on a need for a left-handed bat. The team already needed one before his injury and that has only been amplified now. Thaiss has found some power in the minors this season and hasn't sacrificed the batting average to get to it, posting ISOs above .200 with strikeout rates below 20 percent and a batting average above .300 at Triple-A. If he has truly turned the corner, Thaiss could be a strong first base option for owners who guarantees a decent average with the chance for decent power numbers, making him valuable in plenty of leagues.
14. Cedric Mullins (OF, BAL, AAA)
Stats: 286 PA, .287/.344/.471, 7 HR, 12 SB, 7.3% BB%, 13.3% K%
ETA: Early August
The Baltimore Orioles are heading for the absolute bottom of the pit and should — if they are smart — begin the fire sale by dealing away Adam Jones and Manny Machado. Even if Jones is not dealt, the Orioles have an opening in right field with no one really making a serious push at the position. Mullins is not as exciting as someone like Ryan Mountcastle or Austin Hays, but he has a top-of-the-order approach with some sneaky pop and some speed that could benefit owners in some 12-plus-team leagues.
15. Danny Jansen (C, TOR, AAA)
Stats: 212 PA, .297/.408/.469, 4 HR, 4 SB, 12.3% BB%, 12.7% K%
ETA: Early August
Russell Martin has been abysmal at the plate this season and it's tough to see the Toronto Blue Jays dealing him away for the simple fact of no one would want to acquire him at this point, even if he is still a solid defender. He remains under contract until the end of 2019, so his best role could be just to help the next young catcher in Jansen transition into the role. Jansen has the bat, but needs to improve his catching ability. He has hit enough to prove he deserves the call up this season and could see at-bats this year, which would make him a valuable add in two-catcher leagues, possibly shallower leagues if he were to take over starting time.
16. Dakota Hudson (SP, STL, AAA)
Stats: 80.1 IP, 2.13 ERA, 3.84 FIP, 17.9% K%, 9.0% BB%, 1.7% HR/FB
ETA: Early August
Hudson doesn't dazzle with his stuff like Alex Reyes might have, but since the flame-throwing right-hander is now out for the season, Hudson now is one arm closer to a spot in the majors. In his second trip to Triple-A, Hudson has been able to keep the ball in the yard and miss enough bats to produce a respectable 2.13 ERA. His stuff should miss more bats than it does, but it just hasn't turned into strikeouts. Still, if he is promoted or traded to a team where he gets a chance to make some starts, his stuff should help him remain a solid starting option for owners in deeper leagues.
17. Francisco Mejia (C/3B/OF, CLE, AAA)
Stats: 232 PA, .243/.294/.395, 6 HR, 0 SB, 5.6% BB%, 20.3% K%
ETA: Early August
Mejia was up in the majors for only a brief glimpse of Progressive Field before he was sent back down to the minors without an appearance. Mejia had been on an absolute tear at Triple-A, recording hits in 14 of his last 15 games with a .414/.444/.707 slash line while striking out just 12.5 percent of the time. When everything is clicking, Mejia is an exceptional fantasy prospect, providing one of the best bats to a catcher where few talented bats exist. He might need an injury to break out into the majors, but his upside at catcher can't be ignored.
18. Forrest Whitley (SP, HOU, AA)
Stats: 12.0 IP, 0.00 ERA, 1.37 FIP, 39.1% K%, 6.5% BB%, 0.0% HR/FB
ETA: September
Whitley has been near untouchable since returning from his suspension and looks to be a classic September call-up who could eat up some innings down the stretch. He might mostly pitch out of the bullpen, but he could grab a start or two. Even as a bullpen arm, Whitley's talent would be enough to consider owning for teams in the playoffs. The strikeouts with plus control make him a potentially valuable asset to owners in plenty of leagues in need of pitching.
19. Enyel De Los Santos (SP, PHI, AAA)
Stats: 73.1 IP, 1.47 ERA, 3.28 FIP, 26.2% K%, 7.9% BB%, 7.1% HR/FB
ETA: Early July
Flying under the radar in a solid Philadelphia Phillies' farm system has been De Los Santos. Though the right-hander is not of the same caliber as Sixto Sanchez or Adonis Medina, he has dazzled at Triple-A this season, putting on display his plus fastball/changeup combination with a solid walk rate. De Los Santos' lack of an above-average breaking ball might prevent him long-term from being a starting pitcher, but he could be someone to be called up in the event of an injury or just as extra relief help for a bullpen that has struggled. He might not be a future ace, but if called up to the rotation, De Los Santos could be a solid source of strikeouts.
20. Vladimir Guerrero Jr. (3B, TOR, AA)
Stats: 235 PA, .407/.457/.667, 11 HR, 3 SB, 8.5% BB%, 8.9% K%
ETA: Early August (if at all)
It awaits to be seen how Guerrero's injury will affect his likelihood of a call-up. Most seem to be speculating that his chances of a promotion are gone. Others continue to hold out hope that it is possible once the Blue Jays trade Josh Donaldson. His talent means he should remain on fantasy radars, but owners probably don't need to rush to stash him right now.
21. Luis Urias (2B/SS, SD, AAA)
Stats: 284 PA, .265/.380/.403, 6 HR, 1 SB, 14.1% BB%, 19.4% K%
ETA: Early August
22. Griffin Canning (SP, LAA, AA)
Stats: 54.1 IP, 1.66 ERA, 3.06 FIP, 28.5% K%, 10.3% BB%, 4.5% HR/FB
ETA: September
23. Nick Gordon (2B/SS, MIN, AAA)
Stats: 287 PA, .303/.341/.458, 5 HR, 7 SB, 4.9% BB%, 16.7% K%
ETA: Mid-August
24. Eloy Jimenez (OF, CWS, AA)
Stats: 228 PA, .317/.368/.556, 10 HR, 0 SB, 7.9% BB%, 17.1% K%
ETA: September
25. Sandy Alcantara (SP, MIA, AAA)
Stats: 79.0 IP, 3.76 ERA, 4.49 FIP, 17.7% K%, 9.2% BB%, 6.8% HR/FB
ETA: Mid-July
26. Victor Robles (OF, WAS, AAA)
Stats: 15 PA, .385/.467/.385, 0 HR, 2 SB, 13.3% BB%, 6.7% K%
ETA: September
27. Myles Straw (OF, HOU, AA)
Stats: 309 PA, .335/.417/.406, 1 HR, 39 SB, 11.3% BB%, 14.6% K%
ETA: Early August
28. Carson Kelly (C, STL, AAA)
Stats: 132 PA, .281/.371/.447, 3 HR, 0 SB, 12.1% BB%, 12.1% K%
ETA: Early August
29. Steven Duggar (OF, SF, AAA)
Stats: 283 PA, .282/.360/.433, 3 HR, 11 SB, 10.6% BB%, 29.3% K%
ETA: Early July
30. Ryan Mountcastle (3B/OF, BAL, AA)
Stats: 141 PA, .268/.333/.423, 5 HR, 0 SB, 7.8% BB%, 16.3% K%
ETA: September
MLB Rookie Rankings
1. Gleyber Torres (2B/3B, NYY)
2. Juan Soto (OF, WAS)
3. Walker Buehler (SP, LAD)
4. Ronald Acuna (OF, ATL)
5. Austin Meadows (OF, PIT)
6. Jack Flaherty (SP, STL)
7. Miguel Andujar (3B, NYY)
8. Josh Hader (RP, MIL)
9. Colin Moran (1B/3B, PIT)
10. Willy Adames (SS, TB)
11. Fernando Romero (SP, MIN)
12. Dustin Fowler (OF, OAK)
13. Jake Bauers (OF, TB)
14. Ryan Yarbrough (SP, TB)
15. Caleb Smith (SP, MIA)
16. Christian Villanueva (3B, SD)
17. Harrison Bader (OF, STL)
18. Mike Soroka (SP, ATL)
19. Jesse Winker (OF, CIN)
20. Brian Anderson (3B, MIA)