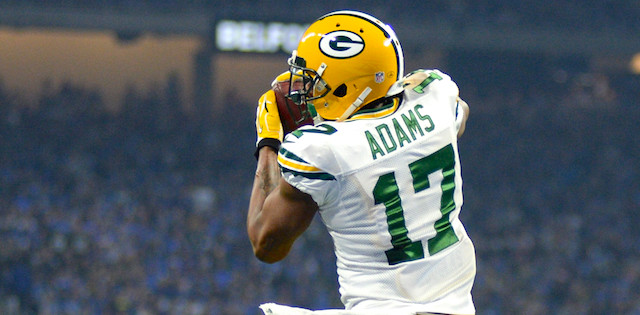 With the NFL season almost officially upon us, the RotoBaller team has compiled our fantasy football staff rankings for 2019, and it's time to look at our wide receivers!
Just like everything within the game of fantasy football, there are ebbs and flows within the industry when it comes to basic strategy. Part of your goal as an owner of a team is to decipher what is working and what is not. The ability to get ahead of these common trends can help decide championships, but it is not always as easy as it seems to solve the equation.
After years of gravitating towards the WR position taking over during preseason drafts, the door entirely sprung open in 2016. Of the top four players listed on ESPN's draft day cheat sheet, three of the spots belonged to wideouts, including Antonio Brown and Odell Beckham Jr., who were going off the board in the first and second positions during most drafts. However, that window did not stay open for long and quickly moved back to the more generic RB-heavy approach in 2018. What I am trying to get at is even though there is a consensus around who the big-three players are this season, this trend will not last forever. I've always been more of a proponent when it comes to an aggressive WR approach and wouldn't be surprised to see the script of what is acceptable flip itself upside down once again next season if one of these pass catchers can earn the right to be considered in the top spot in 2020.
Editor's Note: Our incredible team of writers received five total writing awards and 13 award nominations by the Fantasy Sports Writers Association, tops in the industry! Congrats to all the award winners and nominees including Best NFL Series, MLB Series, NBA Writer, PGA Writer and Player Notes writer of the year. Be sure to follow their analysis, rankings and advice all year long, and win big with RotoBaller!
Read More!
Updated PPR Wide Receiver Rankings - Redraft
Below are RotoBaller's consensus staff rankings for the 2019 fantasy football season. These rankings are compiled by Nick Mariano, Pierre Camus, Scott Engel, Bill Dubiel, Dominick Petrillo, Spencer Aguiar, and Kev Mahserejian.
In case you missed it, our very own "Big Pick Nick" Mariano was the #11 overall most accurate industry expert ranker for the 2018 season, and #9 overall in 2017. Additionally, industry legend Scott Engel recently joined the RotoBaller team and provides his insights as well. Scott is an FSWA Hall Of Famer and award winner.

Tier One
DeAndre Hopkins is listed as our top-ranked wide receiver, but this did not come as a unanimous selection. Three of our seven experts ranked Hopkins within the top six overall players and first WR off their board, although three of us, myself included, had the Texans wideout placed exactly 10th overall. Hopkins' safety is unquestioned, his floor is about as high as anyone at the position when we consider all factors, but there was another player that we will get to later that garnered three first-place votes himself.
At this point in Julio Jones' career, I am not sure what else we can say. Five straight seasons of at least 1,409 yards have highlighted who he is as a player, but if we are looking for any sort of a negative to place on the 30-year-old outside of injury potential, Jones has only recorded an average of 6.2 TDs per year since 2014. If we ever experience a season where Jones jumps off the board with positive touchdown regression, watch out!
Rounding out our tier-one pass catchers is Davante Adams. The 26-year-old was our most divisive of the three wideouts, coming in ranked first on my list to go along with two others but was also featured outside the top-four at the position by two of our experts. I can't speak for everyone, but I'm a huge fan of Adams this season. If we extrapolated his worst fantasy performance of 2018 out over a 16-game campaign, he still would have finished as WR13 for the season. In my opinion, there is no safer player to grab than Adams, and I believe he should be the first player off your board after the big three RBs.
Tier Two
There is a slight dropoff between tier one and tier two, but nobody should be shocked if we see a few of these guys challenge for the season-long points title. Michael Thomas' catch rate of 85 percent last season might be on the high-end of what to expect this year, but his floor presents him as one of the safest options on the board at any position. New Orleans' offense isn't quite what it used to be from a tempo standpoint, ranking 29th in the league in seconds per play in 2018, but Thomas is locked in for 140+ targets on a high-scoring offense.
Speaking of targets, Odell Beckham Jr. is a wild card when it comes to what we should expect in 2019. I have him projected to receive a 26.2% target share in Cleveland's offense - good for 147 pass attempts, but those numbers might need to see a small increase if he wants a chance to enter tier-one potential. The Browns featured the fifth quickest-paced offense in 2018, running a play every 26.99 seconds, so there is a possibility that Beckham could see a boost in production with the sheer number of snaps the offense has the potential to reach.
I am the third-lowest on the team when it comes to Tyreek Hill, ranking him 15th overall, but you can't count out the speedster from being able to emerge from the pack. My biggest concern for the Chiefs wideout comes down to two factors. For starters, we aren't looking at a player that is going to bring in much more than 140 targets on the year. He is a big-play threat that can take it to the house anytime he touches the ball, but there is a lack of opportunity available compared to some of the other big names in this section. Secondly, and perhaps more importantly, Hill's 13 touchdowns last season exceeded his expected value by 6.3 scores, making him a prime candidate to suffer some regression in 2019. None of this is meant to talk you out of selecting him since he is still my WR8, but his weekly floor is about as boom-or-bust as anyone you will find in this range.
And then we have Juju Smith-Schuster and Mike Evans, who are two of my favorite players to pinpoint because of their potential workloads. For what it is worth, I don't expect either to be wildly effective in their roles, but both players have a chance to see over 170 targets on the year, and that alone makes them valuable assets to consider.
Tier Three
Tier three is where we get to three players that are going to cause a ton of discussion moving forward. I am thrilled that we were able to get Julian Edelman to sneak into this section because I do have him as my WR9 this season and believe he deserves to be included at the top-end of this mix, and while my views might be somewhat different from the others when it comes to where exactly Keenan Allen, Adam Thielen, and Stefon Diggs should be ranked, you aren't going to hear any gripes from me with them being listed in this segment.
Sadly, things are not so easy when it comes to T.Y. Hilton, Antonio Brown, and Amari Cooper. Hilton is the only one that is actually healthy at this moment from the group, but the question marks that surround his QB make him one of the most dangerous players to touch at his current ADP. We've seen this story before with Hilton struggling to perform as a top-tier WR without Luck healthy, and you should be closely monitoring his situation as your draft approaches.
I am stealing this quote from our very own Garage Guy Chase here at RotoBaller because it is so good, but it is almost as if Antonio Brown is out here trying to get nominated for an Oscar for his portrayal on 'Hard Knocks.' I legitimately don't even know what is going on anymore with the 31-year-old, and it is evident that the seven of us here at RotoBaller feel the same confusion. Two of us have Brown ranked inside the top 20 (myself included), two between 21 and 23 and three between 31 and 39. It is going to come down to how much of a gamble you are willing to take. I wouldn't blame you for ignoring him, but I also look at his skill and potential and have issues with moving him too far down my board.
As far as Amari Cooper is concerned, I had him ranked 38th overall before the announcement that he was dealing with plantar fascia irritation. I haven't budged quite yet on moving him down further because I assume this is something that he will be able to play through and hopefully get improved by the time the season rolls around, but I wouldn't be jumping for joy if I had my eyes on the former Alabama product. I am out at his current ADP of 32, but I seem to be in the minority on that statement when it comes to our team.
Tier Four
We have a large group here in tier four, featuring three Rams wideouts and some high-upside options on other teams. Brandin Cooks and Robert Woods just missed out on tier three of our rankings, and I could argue that both deserve to be considered for the back-end of that tier. All our rankers placed Woods in the 30s, while Cooks did see more variance, coming in between 28th and 40th.
In my opinion, all the players in this range possess WR1 upside, but we are about at the time where opinions begin to change drastically from one ranker to the next. Chris Godwin has an opening for targets in Tampa Bay, but he is still the number two wideout behind Mike Evans. Cooper Kupp is the perceived third option in the passing game behind the aforementioned Cooks and Woods, and a player like Tyler Lockett is stuck on a run-first team where targets will be limited. The point I am trying to make is that nobody occupies a perfect path for production. For me, Cooks, Woods, Godwin, Golladay, and Kupp would have probably been where I drew my line on this tier, but we have so many opinions going on that one of the other writers could present a completely different take and make just as robust of an argument. It is essential to go with your gut, and I think our diverse range shows just how many variables are possible.
Tier Five
Tier five features Allen Robinson, Calvin Ridley, Jarvis Landry, Mike Williams, A.J. Green, Robby Anderson, Sammy Watkins, and Dante Pettis. For myself, I have a hard time including Pettis into this range. All reports out of San Francisco have centered around Pettis struggling to find a rhythm during training camp and word has it that his starting job isn't entirely safe. I wouldn't go that far, but red flags are beginning to form around the 23-year-old.
Robby Anderson and Sammy Watkins are high-risk/high-reward selections that can be had around pick 75. That value sounds about right given their volatile nature, and while they aren't exactly my favorite candidates for consistent production, I have no issues with them serving as a back-end WR3 or WR4 for your team. Give them a considerable boost in best-ball leagues, but it would be nice if both units could find a way to make them less one dimensional.
I have A.J. Green ranked a little higher than the rest of the group but agree he should be a WR3 when you do finally pull the trigger. I believe we end up seeing him miss a few games before eventually returning, and WR29 is a very acceptable place to take a chance on the star-studded Bengals wideout.
Jarvis Landry, Mike Williams, Calvin Ridley, and Allen Robinson are all WR3s for me also, but I do expect Ridley and Williams to suffer some slight touchdown regression. Both players exceeded their expected value by more than five scores last year, but that anticipated reduction is already being baked into their current ADPs, so I wouldn't downgrade them based off of that information.
Tier Six
Minus Larry Fitzgerald, tier six would be a blast to own in best-ball leagues. Marvin Jones is in a great spot to rebound after his disappointing 2018 season and is worth a swing for the fences at his ADP of 95th overall. Will Fuller hasn't finished any of the last three seasons better than WR61, but if he can stay healthy, he has shown the metrics to provide a breakout campaign for the Texans. In 2018, Fuller finished first in true catch rate, second in yards per target and 10th in yards per reception.
Christian Kirk and Larry Fitzgerald will have to fight for targets on the Cardinals, but there should be enough targets to go around for both. If I was shooting for pure upside, the choice is obviously Kirk, but Fitzgerald is still as sure-handed as ever and isn't going away. And perhaps no player has received more buzz than Curtis Samuel this offseason. I think he will be terrific at times, but it all comes down to where you are able to snag the third-year wide receiver. I prefer him in the eighth or ninth round, but it never shocks me anymore to see some of the places where people are willing to select him. He will still most likely be third in the pecking order behind Christian McCaffrey and D.J. Moore, so I would be careful when it comes to overdrafting him and taking away his upside.
Tier Seven and Beyond
Three rankers have Dede Westbrook listed between 57 and 78, while four have him ranked 96th to 181st. I'm a huge believer in the 25-year-old this season and would have placed him in the same tier as Calvin Ridley and Mike Williams. There seems to be a strong possibility that he could challenge a 23 to 25 percent target share in Jacksonville's offense, and that presents him the upside to finish the year as a WR2.
At the time of our rankings being released, Josh Gordon had not been reinstated back into the NFL. Not everyone has ranked him quite yet, but there seems to be a broad spectrum of outcomes between the few that have. One ranker has him 48th overall, one has him 84th and I have him placed 98th (WR46.) That is obviously on the pessimistic side of things, but I have a difficult time envisioning a scenario where he is posting much higher than a 17.5% target share in New England's offense. Perhaps the Patriots shock the NFL and sling it around the field over 550 times, but between Gordon's off the field issues and Brady's regression in throwing the deep ball, I have a hard time pulling the trigger as anything other than a WR4 for my squad. Here are my projections for him in 2019:
| | | | | | | | | |
| --- | --- | --- | --- | --- | --- | --- | --- | --- |
| WR | Targets | Receptions | Average | Yards | Rec. TD | Rush Yards | Rush TD | PPR Projection |
| Josh Gordon | 94 | 53 | 16.8 | 890.4 | 4 | 0 | 0 | 166.04 |
Last but not least, I am a fan of the values we can get on Donte Moncrief, Daesean Hamilton, Albert Wilson, and Jamison Crowder, to name a few options. Hamilton and Wilson are going undrafted in some setting but have the opportunity to produce as WR3s for your fantasy teams this season. Their upside may not be as high as other alternatives that can be had late, but both players possess a massive window of value for those searching to find a PPR specialist.
More Fantasy Football Analysis
Check out all of RotoBaller's fantasy football rankings. Staff rankings are updated regularly for all positions and include standard formats, PPR scoring, tiered rankings and dynasty leagues.