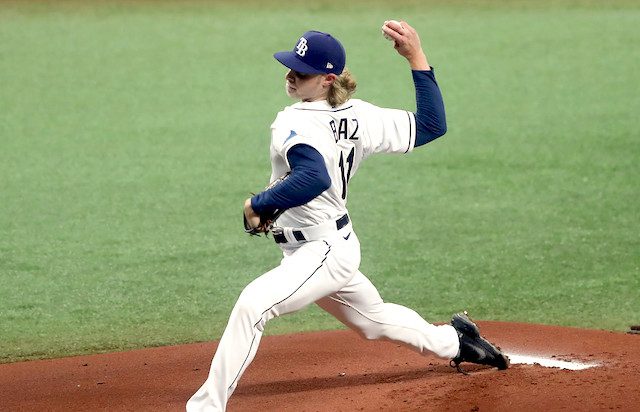 As every baseball fan knows, the sport has been mired in a lockout this offseason. While we don't need to get into all the specifics here, I highly recommend following Evan Drellich for easy-to-digest information on the lockout and also reading this interesting tidbit on the tax laws and their implications for the owners. As of now, what we know is that the first two weeks of the season will be canceled and potentially more if the two sides can't come to an agreement soon.
Well, one of the first things to consider is what the ramifications are on minor leaguers. Remember that this is a Major League Baseball lockout, which means that all MiLB training camps are up and running and the seasons are set to start on time. However, and this is a BIG however, all prospects who are already on an MLB 40-man roster are locked out. That means top prospects like Shane Baz, Seth Beer, Joe Ryan, Joey Bart, Julio Rodriguez and many more are not only not getting any at-bats and reps on the practice field, but they are barred from having any communication with their respective organizations. That means no developmental discussion with the pitching coach or no check-ins with the strength and conditioning staff. They are 100% on their own or working out with older players.
So what does that mean for fantasy managers? Well, in this article, I'm going to go team-by-team, starting with the American League East, and tell you which prospects of note are on the 40-man roster and what this lockout could mean for their fantasy performance this season. I'll also cover some intriguing prospects who are NOT on the 40-man roster and could see their value increase due to the head start they'll be getting on their teammates. I'll be trying to limit to players who could be fantasy relevant in a 2022 season, should we have one.
Editor's Note: Our incredible team of writers received 13 award nominations by the Fantasy Sports Writers Association including Baseball Writer of the Year, Football Writers of the Year, Golf Writer of the Year and many more! Be sure to follow their analysis, rankings and advice all year long, and win big with RotoBaller!
Read More!
Tampa Bay Rays
Prospects who are locked out: Shane Baz, Brendan McKay, Luis Patino, Vidal Brujan, Josh Lowe
The lockout could be bad news for fantasy managers thinking of taking early shares in Brujan and Lowe. As of right now, Roster Resource has Brujan slated to open the season as a bench utility player for the Rays; however, he only went 2-for-26 in his first taste of the majors last season and really cooled off in Triple-A after a hot start. His .262/.345/.440 season with 12 home runs and 44 stolen bases is still good (especially from a speed standpoint), but if the Rays have any concerns about his ability to hit major league pitching, they're not going to rush him to the majors after he gets a delayed start in working with the organization this season. The same goes for Lowe, who only had two Major League plate appearances last year but had a tremendous .291/.381/.535 season at Triple-A with 22 home runs and 26 stolen bases. With the Rays competing for a playoff spot, a shorter season will mean they are less likely to endure a cold start from a prospect who needs to get acclimated to the majors.
The delayed start also raises some concerns for me about Shane Baz. The Rays' stud pitching prospect threw 13.1 regular-season innings in the majors last year and then 2.1 innings in the playoffs. Roster Resource currently does not project him to start the year in the Rays' rotation, and he only has 32.2 innings at Double-A and 46 innings at Triple-A under his belt, so the Rays may be more cautious with him if he's unable to work with the pitching coaches during the offseason. They could opt to have him start the year in Triple-A to ensure he's progressing as they want him to before calling him up. Another factor to keep in mind is that the delayed start to the season will allow more time for Tyler Glasnow and Yonny Chirinos to recover from their respective injuries which could further cloud the Rays' starting rotation. All of that makes me a little less likely to pay the 128 pick ADP on Baz right now.
Curtis Mead, 1B/3B
One prospect who could benefit from the lockout is Curtis Mead, the right-handed corner infielder who made his way up to Triple-A last season after hitting .356 with seven home runs in A-ball and .282 with seven home runs in High-A. For his minor league career, Mead is a .310 hitter with a .368 OBP and .878 OPS. He has a tremendous understanding of the strike zone and improving power, which makes him intriguing for a team that needs a right-handed first baseman. If Mead starts out hot in Triple-A while the rest of baseball is locked out, he could force his way onto the major league roster or even prevent the Rays from feeling the need to make a signing at that spot.
Ian Seymour, LHP
It feels unlikely that the Rays would put Seymour on the 40-man roster while keeping Shane Baz and/or Luis Patiño in Triple-A, but teams sometimes are more cautious with their top prospects and not as protective over their back-end options, which Seymour is. Even though Seymour has a 1.95 career minor league ERA, he only has 10 innings at High-A and 10 innings at Triple-A. Still, as a high-floor pitcher with a four-pitch arsenal and a 97 mph fastball from the left side, he is the type of arm who could emerge as a high-floor option to fill in space until the big-time prospects are deemed ready.
Boston Red Sox
Prospects who are locked out: Brayan Bello, Jay Groome, Bryan Mata, Connor Seabold, Jeter Downs, Jarren Duran
The only player above who's really on the 2022 fantasy radar is Duran. The speedy outfielder struggled to a .215 average in 33 major league games while striking out a whopping 35.7%. It seemed likely Duran would start the year at Triple-A to iron on his plate discipline, and I'd imagine that's even more likely with him being away from organizational coaching for so long. Seabold was emerging as a deep Draft-and-Hold option as a high-floor prospect, so this stoppage may not impact him as much since he seems to be considered close to fully developed; however, this is not ideal for former top prospect Jay Groome, who battled back through injuries and had a solid 2021 season in which he was able to play the full season and show his swing-and-miss upside. He needs to be back on the field and working.
Triston Casas, 1B
For the Red Sox, the most interesting name on here is Triston Casas, who is NOT on the 40-man roster and can continue to work at the minor league complex. Casas saw his stock explode last year thanks to a .284/.395/.484 season at Double-A with 13 home runs and six stolen bases. He even got to play for the United States in the Olympics and seems to be pushing for a Major League call-up this season. In fact, there are many people who feel that a hot start for Casas and a slow start for Bobby Dalbec could result in the Red Sox calling up the left-handed-hitting Casas, and having the two players in a platoon at first base. Unfortunately for Dalbec, a popular sleeper in some areas of Baseball Twitter, Casas will be working with the organization and getting live at-bats while Dalbec is prohibited from working with team coaches. If the organization is impressed with Casas early in the spring, it could speed up his potential call-up and shorten the runway for Dalbec, which makes me more inclined to take Nathaniel Lowe and even Luke Voit, who are currently going after Dalbec.
New York Yankees
Prospects who are locked out: Oswald Peraza, Luis Gil, Luis Medina, Michael King
Many people believed Gil had an outside shot at breaking into the Yankees' rotation early in the season, but I would doubt that now. The delayed start gives Jameson Taillon even more time to heal, which means Domingo German and Nestor Cortes Jr. are vying for the fifth and sixth spots in the rotation and Gil would be SP7. Gil also showed flashes in his six MLB starts last year, but his 4.81 ERA at Triple-A and 5.92 BB/9 suggest that there are still kinks to be ironed out. It's highly likely that the lack of organizational work in the offseason and the delayed start will not help the adjustments to control that Gil needs to make, which makes it unlikely we see him up in the majors full-time until at least the summer.
Anthony Volpe, SS
Listen, Volpe is highly unlikely to make an impact for the Yankees' big-league club this year, but I need to mention him because he is flying up prospect boards. The 21-year-old hit .297 with 27 home runs and 33 stolen bases across two levels last year and seems likely to start 2022 in Double-A. He will also get the benefit of all the organizational coaching to aid in his continued growth. Again, it's unlikely this makes any difference in 2022 redraft leagues, but is there a scenario where both Gleyber Torres and Gio Urshela flop against and Volpe is playing so well that he forces the Yankees' hand in July? Sure. I mean, it's unlikely, but crazier things have happened.
Toronto Blue Jays
Prospects who are locked out: Gabriel Moreno, Nate Pearson, Bowden Francis
The delayed start could have the biggest impact on Gabriel Moreno. The future star catcher was seen as a likely early call-up after hitting .373 at Double-A last year and continuing to show out in the fall. He was almost assured a spot in Triple-A to start the season, so he'll definitely go there now, but could be in for a longer stay if the Blue Jays feel he needs to shake any rust. However, the fact that he did play this Fall is a positive for him, and the biggest factor in his potential call-up might be the performance of Danny Jansen and Alejandro Kirk, who are both obviously on the 40-man roster and are also locked out from working with Blue Jays coaches. In the end, I don't see this having a major impact on Moreno's timeline, but it does make me a little more confident in taking Kirk because I think the Blue Jays may be a touch slower in moving Moreno up than they would have been with a full offseason of developmental work.
Jordan Groshans, SS/3B
The Blue Jays need a third baseman. A team that is contending for a championship isn't going to run Santiago Espinal out every day. That's why many people have been linking them to Kris Bryant and other free agent infielders, but it also means that former 12th overall pick Jordan Groshans will get a chance to work with the Blue Jays organization and prove to them that he's the man for the job. Groshans played all 75 games in Double-A last year, hitting .291/.367/.450 with seven home runs while splitting time between shortstop and third base. Groshans is a solid overall hitter with good barrel control and plus BP power that has not yet begun to show up in games. However, if he begins to show the power development to go along with his plus feel for the strike zone, there is a chance that the Blue Jays decide not to invest too many years in a free agent at the hot corner, which could make them a less desirable destination. I wouldn't rate it as being overly likely, but it's certainly something to keep in mind for deeper leagues.
Baltimore Orioles
Prospects who are locked out: D.L. Hall, Yusniel Diaz, Terrin Vavra, Jahmai Jones, Tyler Nevin
None of these guys were really considered likely to break camp with the Orioles, so the lockout shouldn't impact them for fantasy in 2021. However, Hall is a really intriguing prospect who was injured at the end of last season, so I'd really him to work with the Orioles' medical staff and the pitching development coaches if I have any faith in him debuting this summer.
I'm not sure we see Grayson Rodriguez much this season since the 22-year-old has yet to even pitch in Triple-A; however, I wanted to point out that he is not impacted by the lockout, which means he's had a full offseason in development and will continue to work with the Orioles' minor league pitching staff. That means he should remain on track for promotion, and there is a chance that we see him debut in the summer if the early season performance goes well. So have no fear if you are a Grayson Rodriguez manager.
Many people are drafting Rutschman as if he's the Orioles' starting catcher with an ADP of 192 in recent weeks. That's ahead of guys with firm jobs like Christian Vazquez and Travis d'Arnaud. However, Roster Resource has Jacob Nottingham and Anthony Bemboom as the catchers on the Orioles' 26-man roster, obviously assuming that Rutschman will start the year at Triple-A so Baltimore doesn't lose a year of service time with him. That's what this will inevitably all come down to. If the new CBA doesn't incentivize the Orioles to call Rutschman up soon, you can assume he'll stay down in the minors until the team is assured they don't lose a year of him under a team-friendly deal. However, the good news is that the star prospect can continue to work with the player development coaches and see live pitching while the lockout is ongoing. His performance could force the Orioles' hand but, unlike the other teams in this division, the team has no intention to make a playoff run this season, so there would likely be no chance they jeopardize a year of control over Rutschman, no matter how hot he starts. Thus, the fewer games played in the majors this season, the more I drop Adley down in my ranks, unless we see that the new agreement has no penalty for rookies being immediately placed on the Major League roster.
Download Our Free News & Alerts Mobile App
Like what you see? Download our updated fantasy baseball app for iPhone and Android with 24x7 player news, injury alerts, sleepers, prospects & more. All free!


More Fantasy Baseball Advice