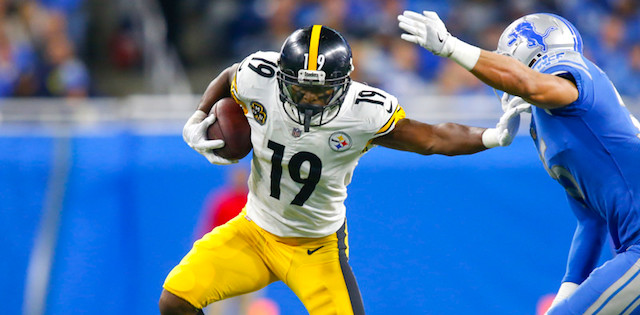 The sun has set on the 2019 fantasy football season and I'm glad it's all over. Don't get me wrong, I love football and have been a fan going on 35 years now, 28 of which I've played fantasy. I spend sunrise to sundown each Sunday watching, analyzing, and agonizing over a multitude of statistics, trends, and decisions that will define the week. It's the best part of the week each fall/winter. But it can often be the worst too.
Being a sports obsessed nut fan means I'm competitive by nature. I want to win whenever possible. More importantly, I also want to make sure I've given advice that will help others win. That's why I nearly swore off fantasy football altogether after Week 14. I had ranked Drew Brees and Jimmy Garoppolo outside the top 20 quarterbacks before their epic 48-46 showdown in which each threw for 349 yards and a combined nine touchdowns. I didn't have Darius Slayton as a top-50 WR and he proceeded to go off for 154 yards and two scores. Don't get me started on Mitch Trubisky...
It turns out my rankings that week went much better than I had anticipated (I finished 14th in FantasyPros' Expert Rankings Accuracy list) but my own teams didn't fare so well. I was officially eliminated in all but two of my season-long fantasy leagues. I went on to lose in the semi-finals of one of those leagues and would lose in the finals of the other. Here's the kicker - my first-place team that had Christian McCaffrey would lose to a team that played Ryan Fitzpatrick and Kenyan Drake and scored an obscene amount of points to which I couldn't respond. That ending was the most fitting way to end an absurd 2019 season that saw more early-round busts and failed sleepers than I can remember. So, I hope you'll excuse me if I vent one last time about this year before looking ahead to next year. Hopefully, we can all learn some valuable lessons along the way.
Editor's Note: Get any rest-of-season NFL Premium Pass for 50% off. Our exclusive DFS Tools, Lineup Optimizer and Premium DFS Research through the Super Bowl.
Sign Up Now!
Where It All Went Wrong
Let's get one thing out the way before getting into the details. You absolutely can win or lose your draft in the first round. More than ever, the discrepancy between the production levels of various high-profile players was significant enough to shape the destinies of fantasy leagues before the opening kickoff of Week 1.
Here are the top 12 picks of 2019 based on NFFC preseason ADP results, along with their final fantasy finish after Week 16 (half-PPR scoring).
1- Saquon Barkley (RB, NYG): RB11
2- Christian McCaffrey (RB, CAR): RB1
3- Alvin Kamara (RB, NO): RB13
4- Ezekiel Elliott (RB, DAL): RB3
5- DeAndre Hopkins (WR, HOU): WR3
6- David Johnson (RB, ARI): RB34
7- Davante Adams (WR, GB): WR34
8- Le'Veon Bell (RB, NYJ): RB19
9- Michael Thomas (WR, NO): WR1
10- Julio Jones (WR, ATL): WR4
11- James Conner (RB, PIT): RB32
12- Odell Beckham Jr. (WR, CLE): WR30
Just seeing some of those names might make you cry. Seven of the first 12 picks didn't even finish in the top-10 at their position much less overall. Injuries can be blamed for players like Davante Adams and David Johnson missing several weeks worth of production but others like OBJ, Kamara, and Bell have no such excuse. If you were unlucky enough to take DJ or Conner, chances are you didn't win that league unless you drafted Dalvin Cook in the second round and/or picked Lamar Jackson as your QB.
Speaking of the second round, it was just as volatile as the first in terms of final production. Dalvin Cook was the second-highest fantasy scorer at running back despite missing Week 16 and half of Week 15. Nick Chubb nearly wound up as the leading rusher in the NFL. Travis Kelce came close to repeating last year's numbers, minus a few touchdowns, still proving he was worth a high draft pick.
Then there's Damien Williams, JuJu Smith-Schuster, and Antonio Brown. Williams had no business being taken so high in the first place but those two receivers were supposed to be among the safest possible picks. It would have been impossible to foresee JuJu's lengthy injury absence or Brown's.... issues. That comes with the territory to some extent but when you pair any of those huge busts with another player from the first round and you potentially had a disaster on your hands, especially if you went with the "safety" of the Steelers offense. Which brings me to the personal side of this issue. Warning: heavy tilting ahead.
From First to Worst
I must preface this story by stating that in 2018, I won the RotoBaller Experts League, the very one I'm about to tell you about. I wound up winning three of my seven redraft leagues that year. I don't say this to brag, rather to explain that I came into 2019 fully expecting to dominate again. Instead, it was a complete shock and humbling experience to someone who was coming off a pretty successful year. Anyone can have a terrible draft or experience a disappointing season but I literally went from first to worst in the league I consider most competitive. Therefore, it will do good for my soul and next year's draft prep to do a retrospective in order to see where I went so wrong personally. Hopefully, you can learn from my mistakes too.
Here's the draft board covering the first 10 rounds (click to see full-sized image):
I'm "Really Really Bad JuJu" for obvious reasons, drafting out of the eighth slot. I started out as "Good JuJu," transitioned to "Bad JuJu" halfway through the season and then to my final incarnation which doesn't even do justice to how wretched things turned out.
My selection of James Conner eighth overall wasn't a reach based on his preseason ADP. He was supposed to be a high-floor pick based on the offense he plays in and the offensive line in front of him. Big Ben's season-ending injury and Conner's inability to stay on the field made him one of the most frustrating players to own all season because you never know when he could be trusted in your lineup. Even worse, there was no singular handcuff that could be used to replace him like DeAngelo Williams did for Le'Veon Bell back in the day.
Take all of the above statements and apply them equally to my second pick and team namesake, JuJu Smith-Schuster. Injuries and inconsistency led him to finish outside the top-60 among wide receivers. He was outscored by both Diontae Johnson and James Washington on the year. Doubling down on Steelers has been a winning strategy for years but it spelled doom in 2019.
Looking back, Michael Thomas was taken one pick before me in the second round. Think about the difference between 94 total points and 297 points at one spot and what that would have meant if things had gone another way. If you don't believe that a single pick can be the difference between winning or losing, that team, who also took Julio "boring" Jones in the first round, finished in first place during the regular season.
Upon further examination, that same team swung and missed at several mid-round picks like Josh Gordon, Rashaad Penny, Sammy Watkins, and Albert Wilson. Securing two of the top-10 fantasy players early made up for a series of busts later on. In other words, it's all about quality at the top, not quantity of players you hit on. There's a waiver wire for a reason.
Going back to my team, I could have made up for the early busts with a player like Derrick Henry or Chris Godwin in round three. Both players finished 2018 strong and were among the most popular breakout picks. Those both turned out to be wise forecasts. Instead, I opted for the upside of a young running back in the Patriots backfield, Sony Michel, who just needed to stay healthy to thrive with an increased workload. Or not. My brilliant selection of Austin Ekeler in the sixth was the only positive among the group of starters I assembled. Let's forget the Dante Pettis thing ever happened and never speak of him again.
The middle rounds of this draft, and all others like it, were riddled with inconsequential picks and players that were later dropped or benched. In fantasy football, you only start somewhere between 6-10 offensive players most of the time. Having that one heavy hitter like C-Mac, Can'tGuardMike, or Lamar "MVP" Jackson is sometimes enough on its own. This leads us to the first of our lessons.
Lessons Learned
Aside from exorcising the demons of fantasy football past, the purpose of this examination is to produce forward-looking analysis. Here are the strategies I will be mindful of when drafting in 2020.
Seek the breakout

Fantasy football is a weekly game. You've heard that before. Streamers can get you by at quarterback, tight end, and flex spots on any given week. Waiver wire pickups can become your RB2 or WR3 if they pan out. But none of that will win you a championship alone. The highest percentage of league winners will have certain players in common and those are the ones who led the way at their position. As mentioned above, Christian McCaffrey, Michael Thomas, and Lamar Jackson were leaps and bounds above the competition this season.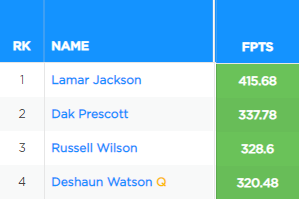 When you see just how far each of those players outdistanced themselves from the rest of their peers, all those other picks seem quite insignificant. If you make the right pick early and identify that one player later on such as Henry, Godwin, or Jackson, you've got a huge leg up before the season has started.
Diversify your interests
Stacking players on high-powered offenses is a popular strategy. It doesn't always work and can sometimes backfire terribly (see Steelers, Pittsburgh). Many of our readers/viewers made comments early in the year that any player on the Chiefs offense was worth owning. This led to crazy FAAB bids for players like Demarcus Robinson, Byron Pringle, Darrel Williams, Darwin Thompson, and even Matt Moore at various points in the season. It isn't that simple. You're better off prioritizing players on bad teams that are due for a higher amount of touches or targets. Instead of DeMarcus Robinson, you should have been targeting Terry McLaurin or Devante Parker.
Go Zero RB
The running back renaissance is dead just as soon as it arrived. Did anyone doubt that Alvin Kamara would return first-round value or that Saquon Barkley was a consensus top-three pick? Five of the seven RBs taken in the first round of most leagues proved to be disappointments. Odell Beckham is the only receiver who can be labeled as such. At least Davante Adams' injury was transparent and allowed for a replacement during those several weeks. Just take a wideout first, maybe even a tight end like Kelce or Kittle, and find your RB1 later on or play the waiver wire game.
Stop playing head-to-head
I'll save the expanded explanation of this for an upcoming article and podcast (subscribe to the RotoBaller Youtube channel to get notifications) but let's all admit that H2H is not the best way to determine a league champion. There is always luck involved in any sport, both in fantasy and reality, but nothing infuriates those vying for a trophy more than a fluke injury, bad penalty, or vultured touchdown making the difference between first and second place. I have some proposals in mind that can limit the luck factor while retaining the personal interaction of head-to-head leagues but again, that's for another time and place.
All told, 2019 was a season that saw more surprises than usual in a league that is seemingly in constant flux. Parity persists, which means that you can likely kiss this year's Super Bowl loser goodbye on draft day. Start turning the page to 2020 and look for a new batch of risers to take up the mantle of fantasy stardom.
More Fantasy Football Analysis