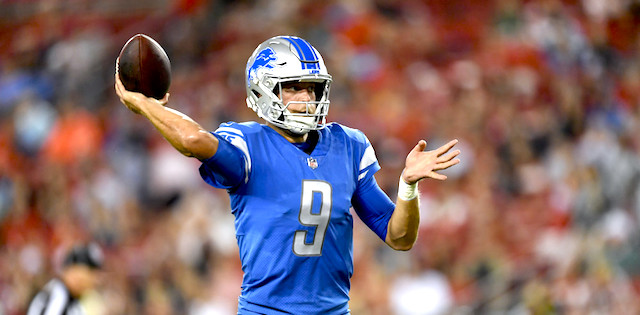 When it comes to bust candidates there are many ways to look at it. The easiest way is to look at their projected finishing spot compared to where they actually finished. But this is unfair in the case of injuries or other unforeseen circumstances.
Was Jimmy Garoppolo a draft day bust? Well yes, but he was also injured which should exclude him, at least in my book. Therefore, he will not be on this list as it will be reserved for those who played or had the chance to play an entire season and didn't.
With this said, let us now take a look at some of the quarterbacks who busted in 2018 and also look and see if there is hope of a return to form in 2019.
Editor's Note: Get any rest-of-season NFL Premium Pass for 50% off. Our exclusive DFS Tools, Lineup Optimizer and Premium DFS Research through the Super Bowl.
Sign Up Now!
How is it possible a quarterback who had a 62% completion rate, 4,442 pass yards and a 25:2 TD:INT is a bust? Because this is not just any quarterback. This is Aaron Rodgers. A seven-time Pro Bowler with two All-Pro selections and two MVP awards. If this were Nick Foles, Andy Dalton or even Russell Wilson, we would be excited for this season. But when only two seasons ago you had a season of 40 touchdowns and seven interceptions, this seems like a down year. Such is the nature of extremely high expectations which comes with being one of the greatest quarterbacks of all time.
We know the handicaps which faced Rodgers throughout the season. From leg injuries hampering him for the entirety of the season to a litany of injuries to multiple receivers and running backs on the offense. This season was not easy for anyone in Green Bay, save Davante Adams. As the number one quarterback drafted in fantasy,  we wanted to see more from Rodgers. Although he ended up finishing as the sixth-ranked quarterback this was not due to consistency but instead to a huge Week 16 against the Jets, a game where many fantasy owners either were already out of contention or had him benched.
2019 should be a much different season for Rodgers with Matt LaFleur coming in as the new offensive-minded head coach. As long as Adams remains healthy and Aaron Jones and Jamaal Williams can provide a needed boost to the run game, the Packers should be fighting once again with the Bears and possibly the Vikings for the division title. Or at least a playoff berth. Rodgers should again elevate to a top-three quarterback, if not #1 overall. With the explosion of Patrick Mahomes and possible fear of a decline for Rodgers, he is possibly a value pick as the fourth or fifth quarterback off the board.
Tom Brady, New England Patriots
Is the age finally starting to take a toll on the talented Mr. Brady? Quite possibly yes but there is also a lot more to be concerned about in New England. Namely the early retirement of Rob Gronkowski, which he seemingly forgot to tell anyone about, instead just deciding not to do anything this season, to the failed experiment that was Josh Gordon. The offensive weapons were less than advertised in 2018 and this also contributed to the down season for Tom Brady. It is a true testament to the coaching of Bill Belichick and the incredible toughness of Brady that the Patriots were even able to make it to their eighth straight championship game after winning their 10th straight AFC East title.
The numbers Brady put up were not stellar and should be a sign of his slowing down and quite possibly not being able to make it to his age-45 season, as he has said he wants to.
With 4,355 yards passing and 29 touchdowns compared to 11 interceptions, this would make a great season for a lesser quarterback. But again, like Rodgers, Brady is not a lesser quarterback and expectations are far higher. He is quite truly the G.O.A.T. and to finish as the 14th-ranked QB is not what is expected by a player of his caliber.
2019 does not look to be getting any better for Tom Brady as there is a good chance Rob Gronkowski officially retires this offseason, leaving players like Phillip Dorsett, Chris Hogan and Dwayne Allen to pick up his slack alongside Julian Edelman. This will lead to more of the James White and Sony Michel show from the backfield and will further reduce Brady's numbers as he continues to wind down his career. While this could be to the benefit of the Patriots, it does not bode well for fantasy players and this could leave Brady to being a lesser player in fantasy.
Great receivers? Check. Good tight end? Check. Solid run game and elite defense? Check and check. So how then could the Vikings fail to even make the playoffs when they were supposed to be the odds-on favorites to represent the NFC in the Super Bowl? The answer is simple: Kirk Cousins.
4,298 pass yards with 30 touchdowns and 10 interceptions may not seem like a bust season but when you are hyped all preseason as a possible top-five fantasy quarterback and you don't even finish as a QB1, you are a bust for our purposes.
While it is no shame to finish behind the likes of Drew Brees and Aaron Rodgers, when you have an offense as high-powered as the one in Minnesota, it is a sorrow to finish behind the likes of Dak Prescott and Cam Newton in offenses which revolve, at least in 2018, entirely around the run game. Especially when your own run game was lacking due to the recovery of Dalvin Cook from the ACL injury taking far into the season and the only running back of value for most of the season being Latavius Murray.
Coming into 2019, Cousins and the Vikings should be better. With Cook now fully healthy and Stefon Diggs and Adam Thielen primed for another bid year, Cousins, much like his NFC North companion Aaron Rodgers should be back to form and in the conversation for a top-five finish.
On a team which finished 5-11 it is pretty sad to get benched for Cody Kessler for the final month. But this is exactly what happened to Blake Bortles. After what was thought to be a breakout season in 2017, Bortles not only reverted to his previous form, but to a form he has not played at since probably high school or Pop Warner.
In 13 games, Bortles finished with 2,718 yards passing and a completion rate of 60.3%, which on its own is terrible but is actually a full percentage point higher than his career average. Having barely over 200 yards per game passing would be bad enough by itself but, when added to two other factors it becomes even worse.
The first of these factors is the added fact he only threw for 13 touchdowns and compiled 11 interceptions during those 13 games. The other issue which makes his yardage worse is the running game. While Jacksonville wanted to be a ground and pound team the likes of the Titans or Seahawks, this only works if your star running back is not missing half the season with a minor hamstring injury. To exacerbate this was the season-ending injury to backup Corey Grant and the missed games by T.J. Yeldon, leading to the trade for Carlos Hyde.
None of these matters helped Bortles for sure but in previous seasons, even when dealt a bad hand, he was still able to pull off top-12 fantasy seasons due to volume. This season he was unable to do so, and this had more to do with his own terrible play and less to do with the mediocrity of the players around him on the offense.
Looking ahead to 2019, Blake Bortles in undraftable even in two-quarterback leagues. Look for him to be either the backup in Jacksonville behind a player like Nick Foles or off the team entirely as he and the Jags look for a fresh start.
The last of our trio of NFC North quarterbacks, and the biggest bust of them all, Matthew Stafford had just a miserable season. Looking forward to 2019, it is still hard to see it getting much better for the strong-armed Georgia product. If this past year was any indication of what is to come in Detroit, Kerryon Johnson should be a big part of the game plan moving into the future. This means less reliance on the passing game and therefore the 650 to 700 pass attempts we have come to expect from Stafford will be reduced drastically.
Golden Tate being traded away mid-season was bad enough for the offense before it fell apart even further with the injuries to Marvin Jones and Kerryon Johnson, putting them on injured reserve to finish the season. As much as everyone is in love with Kenny Golladay, he could not do anything as the only option left on the offense by the end of the 2018 season. If Jones and Johnson are able to come back in full health in 2019, there might be a bounce back in store for Stafford. Otherwise, he should be avoided like sushi at a remote gas station.
In 16 games in 2018, Stafford finished with only 3,777 passing yards with 21 touchdowns and 11 interceptions. These are his worst numbers since his rookie season and if Matt Patricia cannot get anything more done in 2019, it may be the last year in Detroit for him as well as Stafford. Although my guess is Stafford ain't going nowhere bro. Even though he is not an elite quarterback in the NFL, he is a franchise quarterback and the Lions are not going to give up on a 30-year old quarterback who should be entering the prime of his career.
If you draft him for 2019, I would be a little bit skittish about my situation at quarterback. But if you are in dynasty or super flex leagues, he still should have a bit of value and should for sure be rostered in both. He could be a great dynasty bridge until your younger guns are solidified, or until you can draft some in 2020.
More NFL Year-in-Review