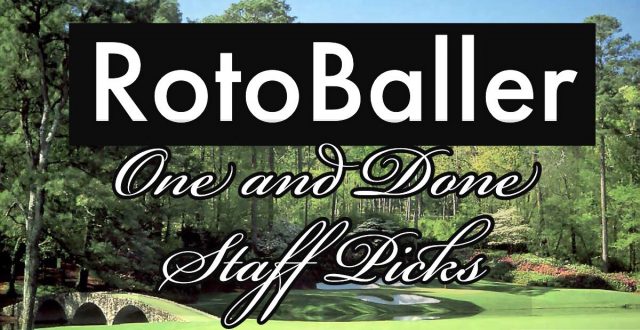 Here at RotoBaller, we are always searching for ways to give our readers the best fantasy sports content possible. With that goal in mind, we are very proud to announce the addition of a weekly PGA "One and Done" column. In this feature, our golf staff of Joe Nicely, Spencer Aguiar and Gianni Magliocco will provide their weekly golf picks every Wednesday. The purpose of this article is to present you with alternative options to consider and hopefully make your selection a much easier process weekly. With that plan in mind, let's get started!
All three of us were able to bounce back nicely at the Travelers Championship after questionable U.S. Open results, but it was Paul Casey's backdoor top-five finish for $262,800 that helped lead the way for Joe. For the first time since week three, Joe has pulled within $300,000 of Gianni and continues the incredible run that has earned him $4,804,553 throughout the past six events. As someone who is struggling to stay afloat in this contest, I can't say it feels great to know that Joe has practically amassed the same total that has taken me 23 weeks to earn!
Both Gianni and Joe have been two of the better OAD experts that you will find in the industry this season, and I hope their advice has helped you to challenge for the title in your league. With the Rocket Mortgage Classic featuring one of the weaker fields of the year, it will be interesting to see what route the boys will be taking in Detroit. Every dollar matters, and you can expect each to come out guns blazing.
Editor's Note: Our friends at Fantasy National have built some incredible DFS Golf lineup tools including a Lineup Optimizer, Stat Engine, Ownership Projections and Course Breakdowns. They are by far the best daily fantasy Golf tools in the industry. Seriously. You can read all about them here and see screenshots. 
Sign Up Now!
2019 Rocket Mortgage Classic
For an in-depth breakdown of the top DraftKings and Fanduel plays, check out Joe Nicely's weekly Horse For The Course that highlights the best fits for the week's course.
And you can also find out who the smart money is on by checking out Spencer Aguiar's PGA DFS: Vegas Reort every week.
Detroit Golf Club
7,300 Yards - Par 72 - Greens Poa Annua (With Bentgrass)
For the first time in 10 years, a PGA Tour event will take place in Michigan, as the Rocket Mortgage Classic heads to Detroit. While the symbolic moment of golf returning to the state should not be lost on those that follow the sport, it doesn't appear that most top pros put much stock into making the trip down to Motown. Only 11 players inside the top-50 in the world decided to give golf's new test a try and sponsors can't be thrilled with the turnout.
With limited information about the way the course will play, we will have to take some educated guesses when it comes to what style of play will be most likely to succeed this weekend. Originally designed by Donald Ross in 1914, the facility has had multiple makeovers over the years but continues to remain heavily tree-lined. Reports have come out that the rough will start the week at nearly 3.5 inches thick, which means players will need to make sure to find the fairway off the tee.
The greens feature a combination of about 85 percent Poa Annua and 15 percent Bentgrass and will set up to play quickly at between 12 to 12.5 on the Stimpmeter. Water will only come into play on four holes, but the entire venue has strategic bunkering throughout. Detroit Golf Club seems to be a plodders type track, but accurate distance off the tee will turn this into a birdie shootout. All four par-fives are scorable and even feature eagle chances for those that are willing to take a few risks. I'd be surprised if we don't see the eventual winner capture the title at 20-under par or better so make sure to target players who are considered birdie-makers.

One and Done Selections
Joe Nicely - Billy Horschel
Alternate -  Kevin Streelman
Well...here we are. I've made a really strong run over the past couple of months, but Gianni and Spencer have to be licking their chops this week. This is the very first time this season that I've truly felt restricted by the players I have available to me. The Rocket Mortgage Classic is a new event on the PGA Tour schedule and it has only pulled a handful of golf's elite into the field. None of them are players I can use this week. DJ...nope. Rickie...gone. 'Deki...burned him early. Woodland...a distant memory. I can't even use Patrick Freakin' Reed (who - and I'm kinda proud of this - played so badly the week I picked him, that his wife was forced to call in a swing coach). To make matters even worse, because this is the first time that Detroit Golf Club has ever hosted a PGA Tour event, I can't even turn to a 'course horse' in this spot. Yep, things are pretty bleak for Team J-Nice this week.
In the absence of an elite option, I've been forced to do some deep diving for this tournament. With the course being an unknown commodity, I've mainly focused on strong tee-to-green players that have been in solid form. Ryan Moore, Brandt Snedeker, and even Kevin Streelman were (scarily) in serious consideration for me. Ultimately, I landed on Billy Horschel as my OAD pick. Billy Ho is a streaky player that has experienced both FedEx-Cup-winning highs and ugly lows over the course of his career. While we're used to seeing peaks and valleys from Horschel, he actually seems to be in a nice, steady groove at the moment. He's gained strokes tee to green in every start since the Masters, for an average of 5.2 SG: T2G over his last five tournaments. Horschel's also had great success on Donald Ross layouts like East Lake and Aronimink, and will be facing a Ross layout this week in DGC.
Did I expect to be using Billy Horschel when I started this contest? Ummm...no. But that's really what makes OADs so much fun, you are forced to roll with the punches. I've used every weapon in my arsenal in an attempt to slow down Gianni's Mike Tyson-esque dominance in our little contest. I'm hoping to land a Buster Douglas-type haymaker with Horschel this week. - Joe Nicely
Yearly Earnings - $8,438,860

Yearly Cuts Made - 20/23
Spencer Aguiar - Dustin Johnson
Alternate - Kyle Stanley
With only nine events to go in most OAD contests, the time to use your big guns is running out. However, the Rocket Mortgage Classic didn't make it easy to do that with only 11 players inside the top-50 making the trip to Detroit.
It seems likely that most participants will have a restrained group of players to pick from this weekend, and I believe some interesting contrarian routes could be taken. Bubba Watson is someone who I would consider heavily if I still had him at my disposal, but with being one of the limited few that still has Dustin Johnson, this feels like the perfect spot to deploy the best player in the world.
I've modeled and handicapped golf for about eight years now, and I have never had a player grade out as well as Dustin Johnson did for me this weekend. The 35-year-old popped up with nearly a 20 percent win percentage, which seems ludicrous given the fact that roughly 155 other professional golfers will be in action. You always run the risk that a big-time player could decide to go through the motions at an inferior event, but unlike some of his counterparts, Johnson seems to excel when faced with birdie shootouts that feature lesser caliber players. If you still have the 20-time PGA Tour winner at your disposal, this feels like as good as time as any to use him. - Spencer Aguiar
Yearly Earnings - $5,351,364
Yearly Cuts Made - 22/23
Gianni Magliocco - Billy Horschel
Alternate - Gary Woodland
This is not good, my friends. In the weakest field I have seen in some time, I'm out of guys at the top of the board. It effectively comes down to a choice for me between playing an, I assume, still drunk Gary Woodland, or taking a shot on a journeyman. As tempting as it is to play Woodland, it's hard to imagine him being ready, and for that reason, I'm taking Billy Horschel.
As you can probably tell - I'm not exactly convinced in my selection, but I'll pick out the pros and ignore the obvious cons. Horschel has just one missed cut all year, and he has gained strokes both off the tee and with his irons in his last five consecutive events. He enters the tournament off the back of four successive top-35 finishes, and it doesn't take a genius to work out that those fields were much tougher than this one.
I'm hoping Horschel can carve out any payday at all for me. I'm expecting to lose my lead this week, but there's a long way to go, and there's every chance Horschel can keep his mojo going in Detroit. - Gianni Magliocco
Yearly Earnings - $8,669,403
Yearly Cuts Made - 19/23
Running Totals
| | | | |
| --- | --- | --- | --- |
| | Joe Nicely | Spencer Aguiar | Gianni Magliocco |
| Sony Open | Gary Woodland  $11,520 | Justin Thomas $99,200 | Kevin Kisner $12,864 |
| Desert Classic | Jon Rahm $212,400 | Jon Rahm $212,400 | Patrick Cantlay $159,300 |
| Farmers Insurance | Marc Leishman $21,158 | Patrick Cantlay $0 | Charles Howell III $79,804 |
| Waste Management | Hideki Matsuyama $113,600 | Webb Simpson $76,917 | Justin Thomas $482,800 |
| Pebble Beach | Chez Reavie $31,160 | Phil Mickelson $1,368,000 | Phil Mickelson $1,368,000 |
| Genesis Open | Xander Schauffele $100,788 | Hideki Matsuyama $177,600 | Dustin Johnson $177,600 |
| WGC Mexico Championship | Justin Thomas $201,000 | Xander Schauffele $128,000 | Tommy Fleetwood $103,750 |
| Honda Classic | Adam Scott $0 | Gary Woodland $25,346 | Adam Scott $0 |
| Arnold Palmer | Rory McIlroy $294,613 | Justin Rose $19,474 | Jason Day $0 |
| Players Championship | Sergio Garcia $125,000 | Tiger Woods $77,625 | Rory McIlroy $2,250,000 |
| Valspar Championship | Patrick Reed $0 | Sergio Garcia $15,209 | Henrik Stenson $54,270 |
| WGC-Match Play | Ian Poulter   $108,429 | Haotong Li $167,000 | Francesco Molinari $712,000 |
| Valero Texas Open | Tony Finau $16,275 | Rickie Fowler $112,500 | Tony Finau $16,275 |
| Masters | Tiger Woods $2,070,000 | Bubba Watson $225,400 | Rickie Fowler $310,500 |
| RBC Heritage | Byeong Hun An $0 | Matt Kuchar $745,200 | Brandt Snedeker $17,342 |
| Wells Fargo Championship | Rickie Fowler $311,063 | Tony Finau  $17,064 | Webb Simpson $99,540 |
| Bryon Nelson | Keith Mitchell $17,301 | Brooks Koepka $379,200 | Tony Romo $0 |
| PGA Championship | Brooks Koepka $1,980,000 | Rory McIlroy $264,395 | Brooks Koepka $1,980,000 |
| Charles Schwab | Jordan Spieth $197,100 | Francesco Molinari $16,819 | Paul Casey $0 |
| Memorial | Patrick Cantlay $1,638,000 | Adam Scott $982,800 | Hideki Matsuyama $327,600 |
| RBC Canadian Open | Webb Simpson $668,800 | Kevin Tway $22,977 | Matt Kuchar $334,400 |
| U.S. Open | Dustin Johnson $57,853 | Tommy Fleetwood $23,851 | Tiger Woods $117,598 |
| Travelers Championship | Paul Casey $262,800 | Jason Day $194,400 | Marc Leishman $65,760 |
Golf DFS News and Player Outlooks