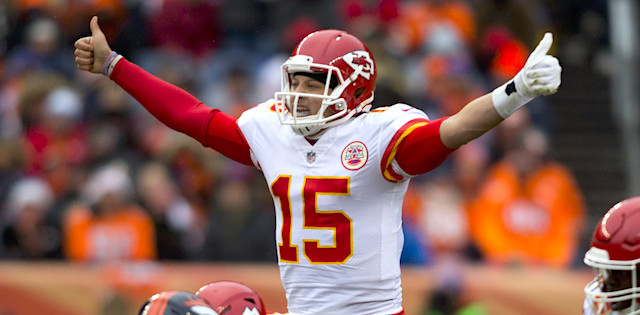 The postgame scene in front of Travis Kelce's locker spoke volumes about Kansas City's Sunday Night Football loss to the Colts from both reality and fantasy perspectives. According to ESPN's Adam Teicher, Travis Kelce was sitting alone with his head in his hands after most of the locker room had cleared out.
Indianapolis had just held the Chiefs to 13 points, the lowest total of the Patrick Mahomes era so far, as Kansas City absorbed their first defeat of the season. Fantasy players who expected much more production out of the Chiefs offense were somewhat stunned by the output.
The questions have now been asked far and wide already in the wake of the loss: Did the Colts build the ideal plan for other Kansas City opponents to emulate, even with a depleted defense? From a fantasy perspective, do we need to re-evaluate the offense?
Editor's Note: Get any rest-of-season NFL Premium Pass for 50% off. Our exclusive DFS Tools, Lineup Optimizer and Premium DFS Research through the Super Bowl.
Sign Up Now!
Colts Create Unrest
Patrick Mahomes had mixed answers to those questions, specifically the first one, when asked about how the Colts managed to throw the Chiefs so far off their comfort zones. The Colts hadn't done anything new. Mahomes had already seen Indianapolis' approach to physical man coverage that USA Today outlined this week.
"They played good defense. They played man coverage, they rushed with four people and they found ways to get pressure and to cover long enough," Mahomes said. "Detroit did it last week, New England did it in the playoffs. We're going to have to beat man coverage at the end of the day."
The Chiefs still scored 34 points against Detroit, so the Lions obviously were not as successful with a similar approach. But the Colts were able to sack Mahomes four times, after he had been sacked only three times prior to Week 5. Kelce, who has dropped only three passes this season, had consecutive drops at one point and had a fumble overturned. He actually shoved offensive coordinator Eric Bieniemy on the sidelines following the play as the Chiefs unraveled in front of a national TV audience.
These were not the Chiefs that excited us so much on draft day. Injuries have also changed the look of the team. Should fantasy players be worried about them going forward? And who can they rely on?
Mahomes Uncertainty?
Let's start with Mahomes, universally regarded as the best QB in fantasy. Russell Wilson passed him as the highest-scoring player at the position in Week 5. ESPN noted Mahomes re-aggravated a sprained ankle twice during the Colts loss. Mahomes, who first injured the ankle in the season opener, has continued to play through the issue, but he has missed some key downfield throws while his completion percentage has dipped below 58 percent in the past two games.
Mahomes has thrown one TD pass in the past two games. But he has also passed for 636 yards in that span while dealing with significant WR injuries. With a matchup against Houston's 25th-ranked pass defense next, and Tyreek Hill on the verge of returning from a collarbone injury, the outlook in the near future for Mahomes is brighter as long as he stays healthy enough to play.
Andy Reid has been unclear if Hill will be able to return against Houston. If he can play, he would certainly help Mahomes beat man coverage, and there will be a lot of additional promise for an offensive rebound against a very vulnerable Texans secondary. As four teams are on a bye, fantasy players are very eager to get Hill back this week.
Musical WR Chairs
Without Hill, Mahomes has given other Kansas City WRs their turns in the spotlight, but none have been dependable. Without Hill for most of the day in the season opener at Jacksonville, Sammy Watkins came through with a career day, catching nine passes for 198 yards and three TDs.
But as he has so often throughout his career, Watkins was teasing fantasy players again. He totaled 167 yards in his next three games and did not score. He was active for Week 5 after it was uncertain he if he was going to be available because of a shoulder injury. He then left the game after just two snaps because of a hamstring problem.
Last week we urged you to sell Watkins in a trade if you could. He is a notoriously annual disappointment, flashing some occasional glimpses of potentially outstanding production before inconsistency and/or health issues inevitably set in. He is a regular source of frustration that many fantasy players cannot stop getting lured in by, but they need to start staying away. He is a completely unreliable WR3.
Following the Watkins explosion, we saw what looked like a possible breakout game for Demarcus Robinson, as he caught six passes for 172 yards and two TDs against Oakland. But Robinson had 10 receptions for 166 yards and one TD in three games since then and is now a cut candidate in fantasy football.
Rookie Mecole Hardman had 158 yards and two TDs in his first two games, but 85 receiving yards and no TDs in his last two. He is a fantasy WR4 at best and maybe less when Hill returns.
The latest dazzling splash performance was by undrafted second-year WR Byron Pringle, who was not owned in a single Fleaflicker league entering into Week 5. He led the Chiefs with six catches for 103 yards and a TD. If he follows the form of the other brief WR flashes across the Kansas City sky, he will possibly be back on fantasy free agent lists by Week 7 or 8.
It is apparent you should trust no Kansas City WR until Hill returns, as Mahomes is spreading the ball around, and also missing his receivers downfield more frequently.
"Whenever you're in a close-fought game, you can't miss a touchdown to D-Rob, you can't miss Travis (Kelce) when you're backed up and you're trying to get out of your end zone," Mahomes said.
Kansas City Clarity
Kelce, who is emblematic of the sudden offensive confusion, has scored only once this season. His other numbers have been satisfactory, but he was clearly frustrated during the Colts loss, with other less combative displays of emotion.
It is clear that the Chiefs are dealing as best they can with a less-than-fully-healthy Mahomes while missing Hill's presence. Mahomes may continue to battle through his problem while Hill returns soon, and it can only help Kelce's outlook when Hill is back.
The Chiefs also welcomed Damien Williams back in Week 5, and he saw 56 percent of the snaps. LeSean McCoy and Darrel Williams split the other 44 percent. We will have to wait and see if McCoy and Darrel Williams continue to share carries behind Damien Williams. Reid cited pass protection issues as a reason for McCoy's lightened workload when it was expected he would split work with Damien Williams. McCoy and Darrel Williams were not given any carries against Indianapolis.
Damien Williams should re-establish himself as the lead RB going forward and is worth using as a lower-end fantasy RB2. But McCoy could still steal some goal-line work and operate as a receiver out of the backfield at times. Darrel Williams may only truly remain in the mix if injuries are an issue.
Kelce can get his head out of his hands now, and you can, too. We've got these guys figured out. The Chiefs just need Mahomes to stay healthy and get their top playmaker back for everything to operate ideally. The RB1 job belongs to Damien Williams, but McCoy may still make his presence felt. Don't look to anyone else from the Chiefs for more than an occasional contribution in fantasy football.
More Fantasy Football Analysis