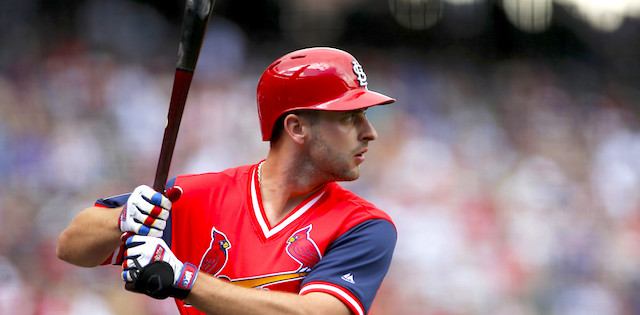 We've been rolling out our Expected Draft Values series, starting with Nick Mariano's look into some undervalued players and overvalued players.As draft season winds down today, we're going to give you some undervalued and overvalued players who qualify at shortstop.
As a quick primer, Expected Draft Value is the value you would historically expect, on average, from a given draft slot. In other words, Expected Draft Value lets you put a stat line next to every pick in the draft... if the player you draft performs better than expected, you get positive value. If the player you draft performs worse than expected, that's negative value. As we all know, a fantasy draft is all about maximizing the potential positive value from every pick.
For example, we can say that "if you draft a power + average hitter 97th overall, your Expected Draft Value should be a line of 285-26-76-75-4. That's your 'break even point'. If you draft a player at 97 who performs better than that, you win, or at least put yourself one player closer to winning.  For a full explanation of our Expected Draft Value research, see Nick's article's from yesterday, linked above. With the introduction out of the way, let's dive into some undervalued and overvalued shortstops!
Editor's Note: Get any full-season MLB Premium Pass for 50% off, with exclusive access to our season-long articles, 15 in-season lineup tools and over 200 days of expert DFS research/tools.
Sign Up Now!
Undervalued Shortstops to Target
Elvis Andrus - SS, TEX
NFBC ADP: 182
Expected Return for a Speed and Batting Average Hitter Drafted ~182nd: .287-7-69-46-20
2019 The Bat + ATC Projection: .277-12.5-77-64-15.5
After a breakout 2017, Andrus's 2018 was marred by a broken elbow that cost him two months and effectiveness even when he returned. The Bat and ATC average projections expects Andrus to return his draft value at a minimum. His moderate power and speed combination make him an odd fit for our cohorts (defined in more detail here), but his all-around production places him closer to a top-150 pick than his current 182.
Andrus's second half gives managers plenty of reason to expect a full rebound. His hard-hit rate, fly-ball rate, and groundball rate all returned to his 2017 levels. His infield-fly rate dropped back to his career average. In the second half of 2018, he was clearly still struggling to generate ideal contact as well as he did in 2017, but there were plenty of signs that he can be a 17-17 player who provides 160 R+RBI this season.
Paul DeJong - SS, STL
NFBC ADP: 178
Expected Return for a Power Hitter Drafted ~178th: .249-28-72-70-2
2019 The Bat + ATC Projection: .253-27-71.5-79-2
Like Andrus, DeJong is another player whose promising 2018 was derailed by injury. Unlike Andrus, DeJong is just entering his prime, and he was able to make a full recovery after returning from injury. Last season, DeJong rushed back from a fractured left hand and slumped for a month as he made weak contact and struggled to find his rhythm. A month after returning from injury, DeJong got his groove back and finished strong.
Over the final two months of the season, DeJong improved his contact rate, batted-ball profile, and dropped his strikeout rate. In the projection, DeJong's run and RBI contributions are his most questionable areas. Moreover, he's likely to outperform the batting average projection. Currently, he's slated to bat second in a Cardinals lineup that features Paul Goldschmidt in the three-hole. DeJong's role with the Cardinals should make him one of those players whose modestly undervalued talent is augmented by an advantageous role. Reaching for him slightly ahead of his ADP could return a nice profit in 2019.
Overvalued Shortstops to Avoid
Jonathan Villar – SS, BAL
NFBC ADP: 81
Expected Return for a Speed and Batting Average Hitter Drafted 81st: .291-10-88-59-25
2019 The Bat + ATC Projection: .251-15-67-49.5-37.5
Like Andrus, Villar is an interesting case in that he doesn't fit many of the models for player roles and values. Villar projects better home run and stolen base totals than Andrus, but he's a weaker asset in the other three categories. That's especially true if the Orioles are as poor as they look. It's not impossible that Villar could produce exactly 100 runs and RBI combined the way he did last year.
In Baltimore, Villar is a legitimate candidate to hit 15 home runs and steal 40 bases, but there could be a severe negative cost for those other three categories, and a low batting average floor creates more downside to his steals totals than we'd like for a near-one-trick pony like Villar. Paying for those steals when they could be recreated with an Andrus and Laureano combination much later in the draft seems like a poor strategy for roster construction, especially so early.
Jurickson Profar - SS/3B/1B, OAK
NFBC ADP: 123
Expected Return for a Power and Speed Hitter Drafted 125th: .260-17.5-83-62-20
2019 The Bat + ATC Projection: .255-17.5-75.5-66-9.5
Profar is being drafted as a power-speed threat, but right now the numbers don't add up for him. Unless he takes another huge step forward, there's not enough power and average to carry him without more steals, and there doesn't appear to be enough speed to make up for the middling batting average. It's worth noting that ATC is higher on Profar and gives him numbers closer to his expected value based on his ADP.
With Profar, there are just so many causes for concern. Matt Olson's injury helps guarantee playing time, but even if Profar reaches 600 plate appearances, he's been so inconsistent that selecting him at 123 eats up all the profit. Profar may offer an interesting dynamic, but his peripherals show a player with mediocre power, speed, contact skills, and plate discipline. That's a strong potential for negative value and a strong pass!
More Fantasy Baseball Analysis