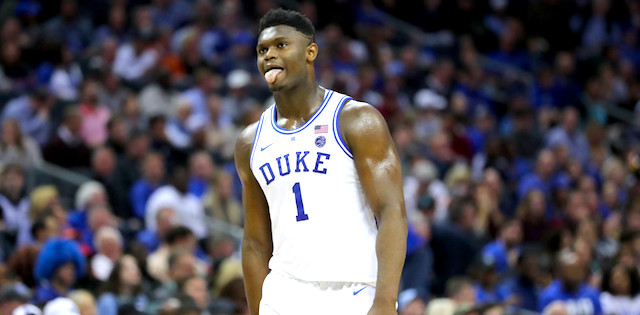 It may not prove wise to sleep on a number one draft pick in any professional sports draft. However, when these first-year players miss chunks of the season, it makes it difficult to be deemed worthy of the coveted Rookie of the Year ROY title.
We're slowly beginning to experience that situation with last June's NBA rookie class. Straight out of the draft, Zion Williamson was the odds-on favorite to be the best rookie in the upcoming season. He may still prove worthy of his current +210 odds of winning the 2020 ROY award.
But, he's still waiting to log his first minute in professional basketball. Further adding to the questionable probability that he wins the award for best rookie is the intent of New Orleans to heavily monitor his playing minutes.
Overall play is part of the equation when determining who the best player is. But, no one can deny that stats are the first benchmark. With reduced court time, and probably no back-to-back games for at least the first couple of months, Williamson is going to have a difficult time putting up big numbers. You can find the latest nba odds on Pointsbet sportsbook online. If you're in New Jersey, you can legally bet on PointsBet.  Sports Betting is legal in New Jersey and upstate New York with over 10 online sportsbooks and apps.
Next Man Up?
So, despite still holding onto the second best odds of winning this year's ROY award, Williamson's possible lack of playing time definitely opens the door for another player to grab the ROY. Early odds backed JA Morant as a strong candidate for best rookie honors.
Twenty plus games into the new season, he has not disappointed. In fact, he's leading all rookies in scoring by more than a point per game. His 19 plus per game average is good enough for 37th in the league.
He has dished out a half-dozen dimes a night to boost his claim to the most prolific rookie out of the gate. But, like Williamson, Morant may now find his court time limited. He's listed as day-to-day with back spasms.
No one in Memphis feels his ailment is too serious, but he's still losing some of the momentum he generated thus far. We still think Morant is the best bet to win this year's rookie honor, but there are also a couple dark horse candidates in the mix.
The Darkest Dark Horse?
A true dark horse would be a player whose name isn't even on the futures odds list for the Rookie of the Year winner. Kendrick Nunn is such a player. However, Nunn played his way ahead of two veterans to claim the starting point guard spot for the third best team in the Eastern Conference.
Nunn is averaging over 29 minutes per game and stroking the nets at over 44 percent from the field. He is second behind Morant in assists, plus fourth in steals for first year players. Miami has put five games between themselves and the Orlando Magic in the Southeast Division.
They're also even with the defending champion Raptors, a half-game behind Boston for the second best record in the conference. Nunn has been a huge part of that success. So much so, he's already taken home the first rookie of the month award in the Eastern Conference. Nunn may not be as dark of a dark horse as the odds seem to indicate.
A Good Cover?
Williamson may not get the court time to produce the necessary stats to win the ROY. Morant may hit some bumps in the road, and Nunn may come back to reality in South Beach. But, there is another player in those first three projections.
RJ Barrett has assumed control over the shooting guard spot in New York. He's even fourth on the depth chart at point guard. The pair of veterans in front of him there may turn out to be fodder for trade as the season unfolds.
That means Barrett is going to continue to get looks on a New York Knicks team with very few lookers. The minutes have been there, and the production has remained relatively consistent for a rookie.
Barrett sits at an appealing +350 to win Rookie of the Year, a far jump from Tyler Herro +1,200. Herro isn't even the most productive rookie on his Miami Heat team behind Nunn. RJ came into the league as a prized draft pick.
However, there was some question as to how soon he'd be given enough court time in New York. So far, he's taken full advantage of the big minutes David Fizdale has handed him. If you want to look beyond Morant at one of the favorites for the ROY, Barrett is a stable option.
Final Thoughts
The odds for Morant and Barrett are so close together, plus so much better than the rest of the class, we have to put them as our best bet favorites to win the ROY award. A nice combination bet to get a dark horse in the picture would be to take a flyer on Nunn.
Don't forget, stats and individual performance are important, but Nunn's stellar play has also pushed Miami as an early contender in the Eastern Conference. Plus, at +50,000 you'll be really happy if that horse wins by a nose.