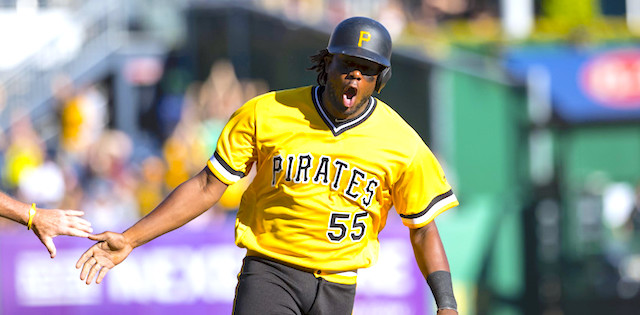 Welcome to this week's Power Hitting Risers & Fallers. All stats are full season through Monday, May 20th (unless otherwise noted). It's that time of year when in-season trends become apparent and full-season numbers may not tell the best story. (They may be most accurate, but they may not tell the best story.) Fortunately, the Statcast Search feature allows a specific player in a specific time range to be studied, with countless ways to further parse the numbers.
Your weekly reminders: When a Statcast ranking like exit velocity is mentioned, a minimum of 50 batted balls is needed to rank in Statcast figures (this is up from 25 last week); 299 players  have that many. An expected stat, like xSLG, is from the pool of players with 100 plate appearances, which is currently 257 of them. EVAB (pronounced ee-vab or ev-ab) is simply exit velocity on "air balls" - meaning fly balls and line drives, as shown on Statcast. Isolated power -- ISO -- is slugging percentage minus batting average, and so xISO is xSLG minus xBA.
Who's rising and falling this week? Read on to find out.
Editor's Note: Get any full-season MLB Premium Pass for 50% off, with exclusive access to our season-long articles, 15 in-season lineup tools and over 200 days of expert DFS research/tools.
Sign Up Now!
Power Risers
It's time we looked at Josh Bell in this column. The number that impresses most immediately: 95.8 mph. Only Aaron Judge and Joey Gallo have hit the ball harder in 2019. A 98.4 EVAB is exceeded by only seven players. He's sixth with a 12.8% barrel/PA rate. Bell is crushing the ball and deserves his 14 home runs.
Forget 2018, Bell's Statcast numbers destroy the 2017 version that hit 26 homers. That version of Bell hit the ball 87.7 mph at 8.6 degrees (he's at 10.6 degrees this year), with a 92.2 EVAB and 4.7% barrel rate. In 2017, Bell's contact produced an expected slugging rate of .441. This year? Try .687, just 10 points below Bell's actual .697 slugging. The .687 xSLG ranks fifth, but last year J.D. Martinez led all full-time players at a .621 xSLG.
You'd expect, then, that Bell's power would come down (as well as that of the four players ahead of him -- Cody Bellinger, Gary Sanchez, Anthony Rendon and Christian Yelich). And it probably will. But this is 2019, and it's not actually clear that league-wide bombs will decrease. Martinez did manage a .683 xSLG in 2017, and this could just be another one of those years.
Bell is one of 10 players who already has 14 home runs, with a stronger Statcast base than several of them. He could well be top five at season's end.
Guerrero offered us a small sample lesson these past two weeks. After no home runs through 53 plate appearances, he now has four in just 77 PA. His 1.7 degree launch angle through May 13 has tripled to 5.1 degrees on the year. His strikeout rate has tumbled from 22.6% last week to 16.9% while holding his walk rate steady. Panic was not recommended last week, and now there's nothing to even conceive of panicking about.
Well, there could be if you really wanted to. Five degrees is still less than half the league average of 11. And...and well, there isn't much else really. Maybe a .505 xSLG sounds disappointing, but it's better than his .441 SLG right now, and every other 20-year-old in baseball right now would kill to slug .500 in the Major Leagues. (Except perhaps Juan Soto, 21 in October, and Fernando Tatis Jr.)
Guerrero's samples are still small, but they are getting bigger. He's already justified the hype, and the next step is to aim for the ceiling.
Unlike Guerrero, Riley has gotten off to an ultra-hot start, with three home runs already in just his first 23 plate appearances. They've all been crushed, at launch angles of 27 or 28 degrees and exit velocities of 109.1, 104.4, and 107.7 mph. His fourth barrel, a 107.1 mph shot hit at 21 degrees, was initially ruled a home run before being overturned into a double.
Obviously, if Riley keeps hitting like that, he'll have no problem piling up the homers. But no one hits to a .944 xSLG over a full season. One thing Riley can do is keep lifting the ball at a 14.5 degree average, which would help keep home runs coming, albeit not every 7.7 plate appearances.
Riley has also been very aggressive in his 23 plate appearances, with a single walk to balance against seven strikeouts. He has swung and missed at 26.3% of the pitches he has seen, whereas only two qualified hitters are above 20% in that figure. If Riley doesn't get the swing-and-miss under control, pitchers will eventually take advantage of his aggressiveness. While players like Franmil Reyes and Javier Baez succeed while being very aggressive, none of them whiff at a full quarter of pitches that they see.
Riley won't keep killing the ball at his 23-PA rate because no one does, but if he responds by becoming more selective, he'll ultimately be fine. His 2019 value may already be at its apex, however.
Freeman has only crossed the 30-home run threshold once, with 34 in 2016. While he remained one of the game's premium hitters due to sheer production in other areas, he went long 28 times in 2017 and 23 times last year. Home run-hitting Freeman appears to be back, however, with 11 through 47 games. Four straight contests with a bomb from May 16-19 have helped him reach this pace.
Those four Freeman home runs aren't as pure as Riley's, including a 99.4 mph, 31 degree shot off of Josh Hader. Yes, that Josh Hader; any home run is impressive off him. Freeman also had home runs at 32 and 35 degrees during the run, which works at 107.7 and 105.6 mph. He's still crushing the ball.
That applies over the course of the full season, so it's not just a four-day hot streak. Ending 11.9% of his plate appearances with a barrel to rank 10th has gotten Freeman to a .618 expected slugging, which ranks 11th. With 11 home runs on 25 barrels, it's possible Freeman hits for only more power as the season continues. Even if he doesn't, it's good to see him set up for a second 30-homer campaign.
Like Bell and Freeman, Cron finds himself near the top of all barrelers, with an 11.8% rate that ranks just behind Freeman. Cron's launch angle has actually been in somewhat of a multi-year decline, peaking at 18 degrees in 2017, down to 15.2 degrees last year and at 13.6 degrees so far this year. He's making up for it with much better contact: a 90.7 mph average exit velocity, a 96.8 mph EVAB, compared to marks of 88.0 and 93.9 last year. And last season was a year Cron hit 30 bombs; with 12 in 43 games so far this season, he could again set a new career high.
Cron's other improvement over last season is a 21.3% strikeout rate; he was near 26% in both 2017 and 2018. That's marginal but useful; every 20 plate appearances he is buying himself another chance at going long.
The Angels, whom Cron played for through 2017, never found more than a part time role for him. Tampa Bay last year did, giving him a career high of 560 plate appearances. Locked into another nearly full-time gig for the 2019 Twins, Cron has become a legitimate power threat for standard leagues.
Power Fallers
Is there any cause for concern about Baez getting shut out of the home run column since May 4? He had 11 before that, which already suggests that, no, he will be fine after a bit more time.
The thing is, Baez has become a doubles fiend in that time, with seven of them. Five of those seven have left his bat at over 100 mph. Looking at each of those doubles, you can easily imagine three or four home runs with just a few extra degrees of launch angle. One of them, hit 104.6 mph at 25 degrees, had to have been blown in by the wind.
Sometimes players just run into a couple weeks without going yard through no real fault of their own. Although Baez only has a .409 expected slugging rate during this home run drought, he's been close to hitting a few. There is nothing wrong with Javier Baez's bat right now that is worth being concerned over.
Verdugo hasn't gone deep since April 24. He has been able to maintain a .300/.367/.414 slash line since then, demonstrating you can be a good hitter without home runs. Still, with four home runs in April, Verdugo's got a .323/.370/.532 overall line on the season.
Unfortunately, the zero-homer version of Verdugo is probably closer to the real Verdugo. That .532 SLG has been built on just a .455 xSLG. The .323 average is even less earned with a .279 xBA. Taken together, it adds up to an expected isolated slugging rate of .176, not .208.
That's not at all to say Verdugo is done going deep. He's worked to get the launch angle into the double figures, to 10.8 degrees after just 3.4 last season, which helps. He's done it while cutting way down on strikeouts, with just 14 in 135 plate appearances. There's power upside here, it's just that long droughts like his current one (during which his xSLG is only .401) aren't terribly surprising.
Martinez raced off to a hot start this season, but not because of home runs. He only has three, all hit between April 19 and May 12, over 154 plate appearances. He had 17 last season in 590 PA. A .319 batting average has still represented some value, but why is Martinez barely on a double-digit home run pace?
Some of it has been bad luck. His Statcast expected slugging average is .566 but Martinez only has a .440 rate this season. A lot of that comes from his expected .339 batting average, but it's still a .227 xISO instead of his actual .121.
Still, Martinez has only barreled up eight baseballs, which has limited his power output, even if three bombs is still a bit low. He's more of a line drive hitter, with a 9.5 degree average launch angle this season that is within line with his career norms.
So it's not like we should expect Martinez to go on a massive power tear. However, he could match his 17 home runs from last year with a little rest-of-season luck.
Pham is coming off consecutive seasons of 23 and 21 home runs, and he began 2019 with four bombs in his first 21 games. Since then, however, he only has one long ball in 22 games. He had a .394 OBP during those first 21 games, and his OBP is now also .394, so he's been productive, but whither the homers?
Since April 22, Pham has hit the ball at 92.5 mph on average but at just a 3.5 degree launch angle. That has somehow actually raised his full season launch angle to 2.1 degrees, while he's hit the ball no less hard lately than to start the year, with a 92.6 mph overall average velocity. Pham has never been a launch angle hitter, however, always between six and eight degrees prior to the 2019 campaign.
Given the low launch angle, Pham's four home runs in 21 games were never particularly sustainable. His overall pace of five home runs in 43 games is more reasonable. That would represent just 16 home runs over 137 games, which is how many he played in his 21-homer season last year. But given the lower launch angle, it would make sense. Pham needs a little more lift to get back to 20 home runs.
Mazara has hit exactly 20 home runs in each of his three seasons. With six in 45 team games, Mazara is on pace to hit 22. That sort of makes him a riser, of a very lukewarm type, but he also has not gone deep since May 4.
And like Baez, whose most recent home run also dates back to Star Wars Day, Mazara has had a decent run during this drought, with an expected slugging rate of .421. His 89.8 EVAB in that time, however, makes the lack of home runs no surprise. (Baez has had a 97.8 EVAB in this stretch.) Both had two barrels as well.
Two weeks of Statcast can be parsed in multiple ways, but the important distinction between Mazara and Baez is their track record. Mazara has given no reason to think he's much more than 20-homer guy, since he has literally hit nothing but exactly 20 home runs in any big league season. While he's on a career-best .498 xSLG on the season so far, that's not going to get him to the breakout people have expected or hoped for.
Last Week's Risers
| | |
| --- | --- |
| Player | Last Week Update |
| George Springer | Only two hits in four games, but one was bomb #17 |
| Michael Brantley | Kept reaching base but no additional home runs |
| Eugenio Suarez | Tooled along at .316/.381/.526 with homer #13 |
| Justin Turner | No hits in 12 PA but still three walks |
| Nolan Arenado | Slow .313 SLG, 0 HR week not surprising given it's a road trip away from Coors |
Last Week's Fallers
| | |
| --- | --- |
| Player | Last Week Update |
| Vladimir Guerrero Jr. | See above |
| David Dahl | Still striking out too much (7/13 PA) |
| J.T. Realmuto | Two homers backs up previous Statcast performance |
| Carlos Gonzalez | Expected playing time dip hasn't happened (22 PA in five games), but he's not justifying it with .176/.318/.176 week |
| Kolten Wong | He'll have plenty of .200/.294/.200 weeks like last week |
More 2019 Fantasy Baseball Advice