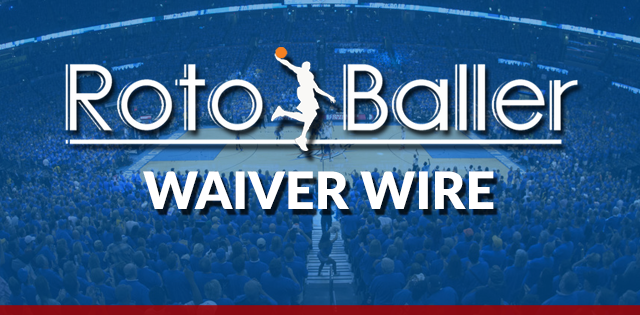 Every team has passed the midway point of the 2019-20 season, resulting in several sure-fire pieces of knowledge that will likely shape its latter half, including the playoffs.
For starters, the battle for Los Angeles is real, with both the Lakers and Clippers asserting their dominance out west in a way that's left the NBA world giddy about a potential postseason meet up. On the other coast, what Giannis Antetokounmpo and the Milwaukee Bucks are doing is nothing short of historic and needs to be discussed under that lense.
From Luka Doncic and James Harden to Jimmy Butler and Ben Simmons, there's plenty else to talk about and will be for quite some time. But that's not what's important here. What matters is that your fantasy team is in good shape as your league's playoff picture begins to smooth itself out. With that in mind, here are five mid-week waiver wire pickup options for Week 14 of the NBA fantasy season.
Editor's Note: Get any full-season NBA and DFS Premium Pass for 50% off. Our exclusive DFS tools, Lineup Optimizer and daily Premium DFS Research.
Sign Up Now!
Week 14 Mid-Week Waiver Wire Pickups
Maximilian Kleber - PF/C - Dallas Mavericks - 47% owned
There's a reason the Dallas Mavericks gave Maxi Kleber a four-year, $35 million contract over the summer. Despite pedestrian numbers, he's a versatile forward who sprinkles in a bit of everything throughout a 48-minute game.
He's had his moments this season but also times where he's tailed off. Already a consistent rotation piece, Kleber's responsibilities are about to increase quite a bit.
Kristaps Porzingis has already missed 11 games this season and is likely to miss more. The real kicker, however, was the torn Achilles tendon suffered by starting center Dwight Powell against the Clippers on Tuesday.
Powell's absence and KP's injury-prone tendencies leave Dallas' frontcourt extremely thin, which should result in Kleber being tasked with plugging as many holes as he can to help keep the Mavericks afloat.
JaVale McGee - C - Los Angeles Lakers - 49% owned
After bouncing around the league and doing his best to change an image that afforded little respect, JaVale McGee has proven to be a key piece towards the title hopes of the Los Angeles Lakers.
He's an elite finisher around the bucket -- easy to do when most of your shots are dunks -- whose rim protection has contributed to LA's 34-9 start.
McGee has blocked a shot in 18 consecutive games, has multiple rejections in four straight and has swatted three shots in each of the last three outings.
Over the Lakers' last three games, McGee is also contributing 13.7 points on 85.0 percent shooting to go with 7.3 rebounds per game.
It seems like he and Dwight Howard take turns with their hot stretches. As long as McGee is in the midst of his, he's certainly worth a look.
Eric Paschall - SF/PF - Golden State Warriors - 39% owned
Amid a roster that's been decimated by injuries, Eric Paschall has been a bright spot for a Golden State Warriors team in unfamiliar territory with the worst record in the league.
He's averaging 14.1 points and 4.8 rebounds per game in just 27.4 minutes a night on the season. The former Villanova forward has turned it up recently with back-to-back 20 point games that come during six straight outings in double figures.
During that stretch, Paschall has been even better, putting up 16.0 points on 53.3 percent shooting to go with 4.8 rebounds and 1.5 steals per game.
As Golden State's season ticks down, expect Draymond Green and perhaps even D'Angelo Russell to rack up the DNPs before being shut down for the remainder of the season.
If Paschall is already producing in the presence of those two All-Stars, imagine what he'll do around playoff time for most fantasy leagues with plenty of minutes and touches to accelerate his development.
Dario Saric - PF/C - Phoenix Suns - 28% owned
It's been a season of inconsistencies for Dario Saric. Part of that falls on the shoulders of a fourth-year forward who can't quite grasp how to stay ready amid fluctuating playing time. Other aspects at play include an unstable role within the offense stemming from constant experimentation by head coach Monty Williams.
Following nine consecutive outings in single-digits, perhaps Saric has rediscovered a rhythm that's come and gone throughout the season. Over Phoenix's last three games, He's averaging 11.3 points, 7.3 rebounds, and 3.0 assists per game.
In fairness, we've seen Saric build up momentum only to come crashing down soon after, but he's returned to the starting lineup following a short stint on the bench.
After a rollercoaster first half of the season, a demotion may have been necessary to extract more out of a wholly talented player. Only time will tell.
Trevor Ariza - SG/SF - Portland Trail Blazers - 14% owned
The first half of the season was mostly a waste for Trevor Ariza, a 34-year-old veteran forward trying to find his place on a Sacramento Kings squad where youth is the top priority at the moment.
But following a trade to the Portland Trail Blazers, Ariza has a chance at a resurgence. Some may consider him washed, but it was just last season where he averaged 14.1 points, 5.3 rebounds, 3.8 assists, 2.2 threes, and 1.2 steals per game across 43 starts for the Washington Wizards.
At 10th in the conference with a 19-26 record, Portland is in desperate need of assistance to reenter the playoff picture. Ariza, who averaged just 24.7 minutes per game in Sacramento, was brought in for that reason.
Because of that, he should see a significant bump in his minutes that afford more opportunities to produce numbers close to his most recent stint in the nation's capital.
More Fantasy Basketball Analysis