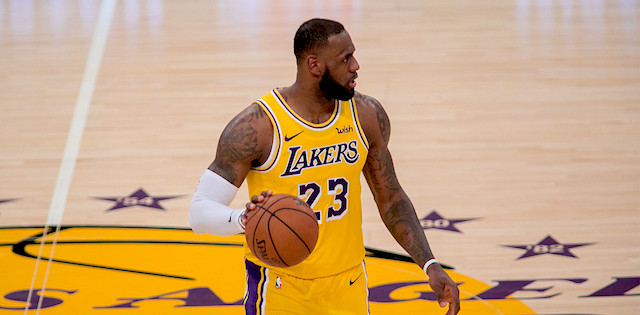 If we take a look at the early record of the Los Angeles Lakers, we see three victories and a defeat. Nothing about one loss is too alarming until we look at the team it was against and how it transpired.
LA won three home games, two against under-manned opponents, without much effort. The victory over the Utah Jazz in game two was impressive in that the Lakers adapted their game to the Jazz slowdown strategy. The single loss wouldn't raise such a red flag if it were not for the opponent.
Three things stick out to us as much as any others. LeBron James is playing a slightly different role than any he has played in his career. Anthony Davis is playing extremely well, and the Laker supporting cast is doing their job, minus two of its key players.
LeBron as a Facilitator
Watching the Lakers play makes it clear which player on the court is the most talented. LeBron James is still the king of the basketball planet. However, as impressive as he has been in LA's first four games, the various methods he has used to involve his teammates is strikingly impressive.  The rest of the Lakers roster is reaping the benefits of his willing and ability to give his teammates opportunities.
During his years with the Cleveland Cavaliers and Miami Heat, James has played with other star players. Still, he was the go-to man during crunch time. In Los Angeles, surrounded by maybe the most gifted group of stars in his career, LeBron's abilities as a facilitator have been on full display.
Here are the most impressive parts of LeBron's current statistics. He is a small forward, officially, who nets over 23 points per game. Not the scoring prowess of legendary basket-makers, but pretty good numbers. Now, he's also dishing out nearly 10-dimes a night on top of his nearly two-dozen points.
This is point guard type of facilitation on a basketball court. James is the consummate defender as much as he is an offensive star. James is clearly the glass at over six rebounds per game as well. Balance is the word for LeBron's early season performance. This balance will make the Lakers an even more imposing team as the season unfolds.
Davis's Dominance
One obvious take from the Lakers' first four games is the utter dominance being leveled by Anthony Davis. We all knew Davis was the consummate big man in professional basketball.
Teamed with the player many believe to be the best on the planet, Davis is posting historic type numbers. In the LA dominance of the Grizzlies, Davis put up numbers that were matched only once before in NBA history.
That other player was a man named Wilt Chamberlain. Yes, the same Wilt the Stilt many feel was the greatest center in NBA history. Davis's stat sheet read 40-points, 20-rebounds, with 25 of his points coming from the charity stripe.
Only Chamberlain has ever had that type game. His current scoring numbers are inching close to the 30-point per game mark to go with twelve and a half boards per night. Ironically, Davis did not reject a shot in his historic stat game against Memphis, but has 11 blocked shots in the Lakers' other three games.
Anthony Davis looks healthy, and he says physically ready as at any point in his career. If he remains that way, the tandem combination with James will certainly elevate Los Angeles's ability to dominate other teams.  You can find Lebron James stats and the rest of the Lakers daily on Lineups.com
The Supporting Cast's Contributions
Part of the Lakers new supporting casts is a player once deemed as talented in some respects as James himself. Another similar characteristic between LeBron James and Danny Green is the propensity to be in championship types of locker rooms.
Green brings a championship mentality to LA like James. He's not only a two-time NBA champ, but his North Carolina Tar Heels team won the 2009 collegiate title. Last year, he was instrumental in the first world title for the Toronto Raptors.
Green is currently third on the Lakers in minutes played, points scored, plus he's their fourth most prolific rebounder. JaVale McGee hasn't put up quite the same numbers, but he is playing at a high enough quality level that it gives Davis important time to rest.
In addition, a man who was once labeled as the superman of the big men is filling the same type of role. Dwight Howard is playing 20 highly efficient minutes per game thus far, netting around three baskets and snatching seven rebounds during his court time.
Howard actually has the third highest player efficiency rating (PER) on the team behind Davis and James. Avery Bradley and former Golden State Warrior Quinn Cook have been serviceable options at point guard.
This isn't a problem for the Lakers since James often becomes the ball distribution point for the LA offense. Everyone needs to keep in mind that a third potential superstar, Kyle Kuzma, has yet to suit up.
Neither has mentally erratic, but extremely talented top point guard Rajon Rondo. When Rondo and Kuzma return in a few days, the supporting cast of the Lakers will be fortified. It will also shift Bradley back to more of a defensive focus, the strongest part of his game.
The Lakers look like a very good team thus far, no surprise there at all. They have dominated in three of their four games. It's the fourth game and their only loss, which might be something to keep an eye on. LA lost to the other LA, a Clippers team, which many feel is the strongest contender for the NBA title.
Losing to the Clippers in an away game, albeit at the same arena each team calls home, is a point to watch. We'll learn a lot between now and their next battle at Staples Center, a prime time game scheduled for Christmas night. However, the Lakers need to assert themselves or a potential mindset will begin to develop, a mindset with questions attached to it.
The Clippers lost their last game, one that their own superstar sat out against a strong Utah Jazz team. The Lakers have a half-game edge over their 3-2 cross-town rivals and the young Phoenix Suns. Our reaction to the Lakers start out of the box is that things are going pretty much as predicted. The biggest question will gradually become which LA team is the best.