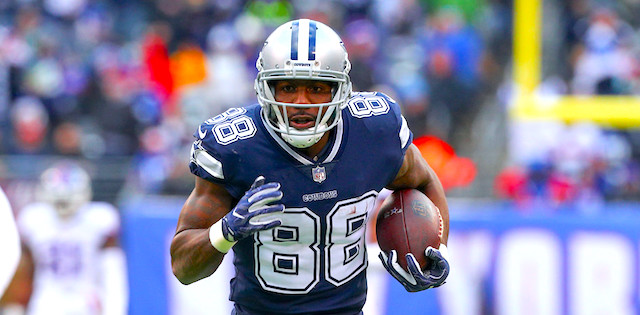 With the news Wednesday that Dez Bryant was signed by the New Orleans Saints, there are many questions which need to be answered.
First, what does this mean for Bryant himself? Is he about to become a fantasy superstar in an explosive offense, or is he just a distraction for defenses on the field while Michael Thomas continues to shine?
The other big question is, how, if at all, does this affect the other receivers in New Orleans? Does Bryant's addition mean we have to worry about players like Tre'Quan Smith being phased out? Let's dive into Bryant's profile to figure it all out.
Editor's Note: All you early birds can get a full-season NFL Premium Pass for 50% off. Our Draft Kit, In-Season tools and over 150 days of Premium DFS.
Sign Up Now!
Is Dez Bryant Still a Weapon?
We should start by looking at Bryant's numbers with the Cowboys. Over the course of his career, Bryant averaged 66 yards per game on 4.7 receptions per game. That works out as an average of exactly 14 yards per reception. However, probably the most impressive number is his touchdowns per game ratio. Bryant scored a touchdown every 1.55 games he played with the Cowboys over the course of his career.
However, in the last three years, Bryant has seen his numbers decline somewhat. In his peak, between 2012 and 2014 he averaged 82 yards per game, 5.69 receptions per game and a touchdown every 1.17 games. In the last three seasons, those numbers fell to 55 yards per game, 4.1 receptions per game and a touchdown every 2.17 games. Part of the issue was injury; Bryant missed a total of 11 games over the last three years having played all 48 the previous three. His catch rate also dropped from being above 58% and in the region of 65% down to roughly 50%.
The question remains: why did that catch rate drop so much? Are the injuries linked or are they something different? It became clear that Bryant could not separate as well the last three years. He also saw a change in quarterback and offensive philosophy. In his prime, the offense was more pass-friendly and he had a quarterback he knew well. The last three years he had a backup in most of 2015 and then a quarterback perhaps less suited to his style in Dak Prescott.
So what does that mean for this year? The quarterback certainly will not be an issue given he has Drew Brees throwing him the ball. His ability to separate from defenders, beat man coverage and his health may be an issue still. However, coming in in Week 10 should mean that Bryant is fresh and his health should not be a problem. The final issue is learning the playbook. Bryant has only really ever had one playbook and that has limited his route tree. Now he gets a different playbook to learn in a short space of time.
So what role is Bryant likely to have? Initially a limited one, I would expect. However, the Saints only appear to have two wide receivers they truly trust. That might open the opportunity for Bryant to get on the field. Even if he plays regularly, it is likely the routes will be limited and that might be a good thing. My expectation is the Saints will move Bryant into the slot and utilize him in the red zone, where his size is a big advantage. Last season five of Bryant's six touchdowns came in the red zone and he led the Cowboys in red-zone targets, with 34.92% of their targets. That is where Bryant's value will lie.
I do not expect him to see a huge amount of targets and therefore receptions, which will limit his PPR value. However, in standard leagues and leagues that place a heavy emphasis on touchdowns, he could have value down the stretch. It may take a few weeks but come fantasy playoffs time he could have a big impact. The Saints have a nice schedule for wide receivers in the fantasy playoffs and Bryant could be worth a speculative pickup in the formats above and in deeper leagues.
Other Fantasy Implications
My initial thought is that this would not affect Thomas much. However, Thomas has 16 of his 79 targets and four of his five touchdowns in the red zone. His yardage should not be affected hugely as I cannot see Bryant playing a major role between the 20s but once the Saints get inside the red zone there is every chance he could lose some of the 25% of red zone targets he has been seeing. However, this may have a benefit for Thomas in the long run. With Bryant on the field, defenses will have to account for him, and especially so if he has success. That may draw defensive focus away from Thomas at times. Even if he does see a reduction in red zone targets Thomas remains a must-start fantasy option following the trade.
I am not sure the acquisition of Bryant does much to Smith's value. Smith does not feature hugely in the red zone with just four targets in there on the season. The issue is that Smith's role is very hit and miss and he only really had a role since Ted Ginn went out. Bryant is not going to fill the role of Ginn, he does not have the speed, but if he even takes a target or two away from Smith that could be an issue. The good news is I do not see that being a huge problem in the majority of the field, so Smith should still retain most of the value he had pre-trade. The trouble is I am not sure there is a huge amount of sure thing value to rely on in the first place.
The expectation is that the Saints will use Bryant as some kind of hybrid wide receiver/tight end. If that is the case it could take away from the role of Watson. In addition, Watson has seen seven red-zone targets and they have accounted for both of his touchdowns this season. Most of Watson's value is tied to his ability to catch touchdowns and if he sees a reduction in those red-zone targets that could see him drop out of the top-15 tight ends.
No, Bryant is not going to be the next Cordarelle Patterson and start playing running back. However, he could have an impact on Kamara's fantasy value. Kamara has been used a lot in the red zone this season, seeing 35.92% of the Saints targets there. In total Kamara has 22 red-zone targets and five touchdowns from those targets. Kamara's role catching out of the backfield is not your traditional red zone element and therefore I do not think it will hugely reduce his targets there. However, one more mouth to feed may just mean one less red zone target every couple of games and maybe that results in one less touchdown over the course of the rest of the season. Probably nothing significant and it does not change how you use him at all but this is just a warning for you all if his red zone numbers do dip.
More Risers and Fallers