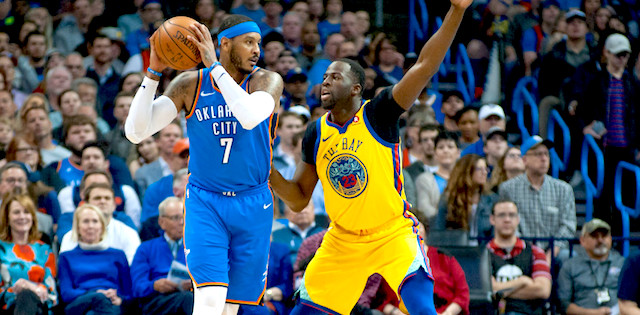 BALLER MOVE: Add In 14-Team Leagues
OWNED IN: 34% of leagues
ANALYSIS: I'm actually writing about Carmelo Anthony not because I think he's a good waiver pickup, but because I think he can be a situationally good waiver pickup, which is to say I think you should absolutely roster him in a 14-team league, but in shallower formats I worry he doesn't bring enough to the court to justify a roster spot.
In terms of what Anthony still can do, let's look at his Rockets tenure last year. In the 10 games before Houston moved on from Anthony, the former star forward averaged 13.2 points, 5.4 rebounds, and 0.5 assists per game. He shot 32.8 percent from on 6.4 attempts per game.
Anthony is in Portland to do one thing: score points when either Damian Lillard or C.J. McCollum aren't on the floor. He'll get a few rebounds, but mostly you only need to roster Anthony if you need someone who can get you points and made threes. His field goal percentage likely won't be great. He'll probably average more than 0.5 assists, but not significantly more. I'm avoiding Anthony in most of my leagues, but I get why you want him, and have at it in a 14-teamer.
By popular demand, RotoBaller has aggregated all of our fantasy basketball NBA waiver wire pickups into a running list of NBA waiver options, so bookmark the page and check back often for updates.